When I wrote the 2017 in Music summary post late last year, I made a point out of the lack of proper data from Last.fm. Now the data is finally here. Actually, the data has been available for over a month now, but thanks to my rather embarrassing posting frequency at the moment over the last year, I haven't made the time to actually look at them until now.
First, let's see what the Last.fm general listening summary says about 2017.

For some mysterious reason, I listened to less tracks than in 2016 before we went to France on summer vacation, and more tracks when we returned home. Why I don't know. What I do know, and the Last.fm numbers make that very clear, is that I mainly listen to music while at work and while commuting. The wast majority of my listening happens during the work week, and between 6 AM and 4 PM, which are my usual commute-work-commute hours.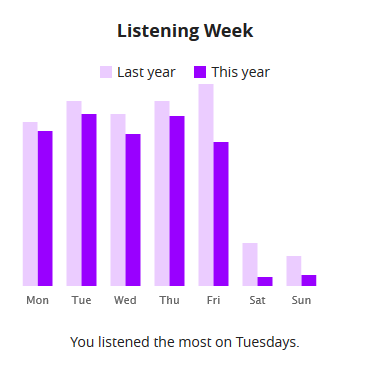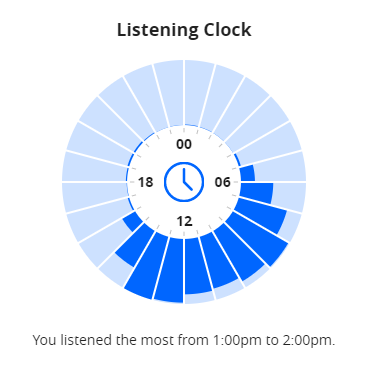 Interestingly, there are some differences in the numbers reported by Spotify and Last.fm: There is a 10 day difference in the total listening time. While Spotify reported that I'd been listening for roughly 40 days, Last.fm says it was 30 days. Why this happens, I have no idea. Perhaps Spotify simply doesn't report everything to Last.fm. Perhaps I reinstalled Spotify and forgot to configure Last.fm scrobbling. It's not really that important.
New Discoveries
The most interesting bit to take away from the Last.fm reports is the artists chart. In 2017, I listened to a total of 2,187 artists, with 40% (874) of them being artists I've never heard until last year.
Unfortunately, Last.fm doesn't provide a list of all the new discoveries, just the top discovery in terms of number of plays. In my case, the top discovery was För Alltid, an ambient/electronica artist that I can find absolutely no information about online. Other noticeable finds from 2017 include Good Weather For An Airstrike, Fabrizio Paterlini, and Yosi Horikawa.
I didn't find any new favorites that match the likes of Biffy Clyro, Lonely The Brave, and Nothing But Thieves in 2017. But it still was a good year for music discovery.
I <3 Spotify
I certainly get a lot of bang for the buck with my Spotify Premium subscription1. Last year, I listened to 5,138 different tracks. iTunes charge $0.99 per song, which would have added up to ~$509. I pay $120 a year for my Spotify Premium subscription, which is a 76%-ish discount. Sure, I don't actually own any of the music, which was something it took a while to get used to. But if Spotify goes tits up one day - and many analysts have doomed Spotify ever since the service launched 9 years ago - there will be another, similar service that will offer the same service and catalogue.
Still, I certainly hope Spotify doesn't fall apart any time soon, because it really is an amazing, and seemingly bottomless goodie bag of great music.
---
The artists would benefit from getting paid a bit more than they do now, though ↩︎
---
Feedback
This post has no feedback yet.
Do you have any thoughts you want to share? A question, maybe? Or is something in this post just plainly wrong? Then please send an e-mail to vegard at vegard dot net with your input. You can also use any of the other points of contact listed on the About page.
---