2018 in Music
It's 2019, and I'm publishing a post summarizing something that happened in 2018. What is this madness!? Here's my 2018 in music.
Normally, the post that lay out my year in music comes when Spotify decides to unleash their own annual recap. In 2018, that happened in early December, and while it was tempting to sum up the year then, I wanted to wait for all my 2018 data to be available. And not just the data from Spotify, I wanted all the juicy stuff from our friends over at last.fm as well.
First, let's see what the Last.fm general listening summary says about 2018.

Compared to 2017, the number of tracks played (or "scrobbles" as last.fm calls them), is down by 8%. This should not come as a shock. I listen to music mostly when I'm at work, and in 2018 I spent a few months at home on parental leave. I'm a bit surprised the number of tracks I listened to didn't go down even further, to be honest.
Same Procedure As Every Year
My day-by-day listening habits for 2018 were almost identical to 2017. I listen to a lot of music during the work week, but not so much during the weekend. The listening time increased during the weekend, though, and I suspect this is due to the fact that I moved my computer from the basement to the living room. Tuesday is still, for some reason, the day when I listen to music the most.
In terms of listening minutes during a day, I'm happy to report that I spend most of the night sleeping like a baby. Because of that, my listening time is mostly during the day.
Favorites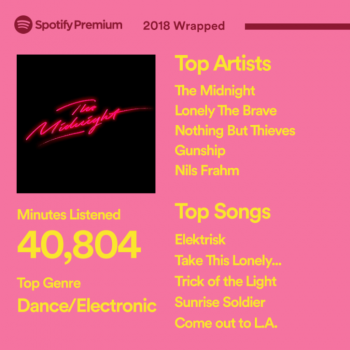 The data from Spotify and last.fm is pretty consistent. They both report that I listened to music for about 40,000 minutes last year, but they can't agree on who my favorite artists were. Since Spotify is the actual source of all the data, I'll go with them on this one.
Both Lonely The Brave, and Nothing But Thieves are on the Top 5 Artists list this year as well, but they are beaten by The Midnight. Another 80's synthwave band, Gunship, also made it on to the list.
On the Top 5 Songs list, there are no big surprises, but it's interesting to see that Trick of the Light by Lonely The Brave has made it to number 3. The song is from their debut album, The Day's War, which was released in 2014.
The Top 5 Songs list reveals a major flaw in Spotify's data collection. The number 1 song is not something I've listened to - at least not by choice. Elektrisk is a song by the very popular Norwegian pop duo Marcus & Martinus. Their core audience is not me, but rather girls aged 3 to 31. They sing catchy songs about teenage luv, and I wrote about how they should use their potential for good instead in the post "When Will Marcus & Martinus Take Social Responsibility" earlier this year.
Whenever my 4-year-old asks to listen to Elektrisk, I turn on Spotify's private mode. But that obviously doesn't stop them from tracking what I'm playing. Last.fm, on the other hand, respect my privacy, so there's no trace of the song in those data. Phew!
New Discoveries
As with every year, I discovered a few new artists in 2018 as well. The majority of the information below is shamelessly ripped from Wikipedia.
Austin Wintory
Austin Wintory (born September 9, 1984 in Denver, Colorado) is an American composer. He is particularly known for composing the scores to the acclaimed video game titles Flow and _Journey. _The latter was nominated for a Grammy Award for Best Score Soundtrack for Visual Media (the first for a video game). His film efforts include the scores to the 2009 Sundance hit Grace, as well as the 2008 Sundance Audience Award winner Captain Abu Raed. Wintory has composed 300 scores since 2003.
Don Broco
Don Broco is a British rock band formed in Bedford, England in 2008. The band consists of Rob Damiani (lead vocals and electronics), Simon Delaney (guitar), Tom Doyle (bass) and Matt Donnelly (drums and vocals). The band's debut album Priorities was released on 13 August 2012, followed up by Automatic on 7 August 2015. Their latest album, Technology, was released on 2 February 2018.
Their style has often been related to genres such as alternative rock, pop rock and post-hardcore by reviewers.
Gunship
Gunship is a British synthwave band. It was formed in 2010 by Dan Haigh and Alex Westaway and later joined by drummer Alex Gingell. Gunship's music has been described as "influenced by the soundtracks of 80s film, television shows, video games & cartoons" and "a neon soaked, late night, sonic getaway drive, dripping with luscious analog synthesizers, cinematic vocals and cyberpunk values, exploding from the front cover of a dusty plastic VHS case which has lain forgotten since 1984." The band are credited with helping to popularize the synthwave scene and evolving it by adding rock song structure and extensive use of vocals to a predominantly instrumental genre.
Lambert
Lambert is a pianist and composer from Hamburg, Germany. He always performs wearing a Sardinian mask. If you read German, there's a bit more information about the guy on Lambert's press page.
I very much recommend his Sweet Apocalypse album.
---
Feedback
This post has no feedback yet.
Do you have any thoughts you want to share? A question, maybe? Or is something in this post just plainly wrong? Then please send an e-mail to vegard at vegard dot net with your input. You can also use any of the other points of contact listed on the About page.
---
It looks like you're using Google's Chrome browser, which records everything you do on the internet. Personally identifiable and sensitive information about you is then sold to the highest bidder, making you a part of surveillance capitalism.

The Contra Chrome comic explains why this is bad, and why you should use another browser.