It's time for the annual summary of my year in music.
In December last year, I posted my usual torrent of entries summarizing the year. A Book A Month 2019, A Picture A Day 2019, and of course the year in bullet points, 2019, are all posts that have become December traditions on this site. But one familiar face was missing from the crowd: The 2019 music recap!
Have no fear, though. My 2019 in music has not been forgotten. The reason for the delay is that I've been waiting for Last.fm to crunch their 2019 numbers. This year, it took a bit longer than usual, but now my annual listening report is complete, and it's time to bother you with the results.
First off, let's see what the Last.fm general listening summary says about 2019.

It's a new record, everybody! Or is it? The annul report from Last.fm says it is, but that's a blatant lie. It's a new record only if you compare it to the annual report from 2018. But it's not the most music I've listened to in a year since I registered my Last.fm account all the way back in 2004. Far from it, actually. My peak year was 2013, when I listened to a whopping 22,433 tracks.
In 2019, however, I listened to 13,555 tracks, which is 17% more tracks than in 2018. The reason why it's so much more is that I usually listen to music at work, and in 2018 I was away from the office for three months in parental leave.
Artists, Albums, and Tracks
As usual, I listened to a wide range of artists. albums, and tracks. I've got Spotify to thank for that. The service makes it incredibly easy to discover new artists, and to make varied playlists.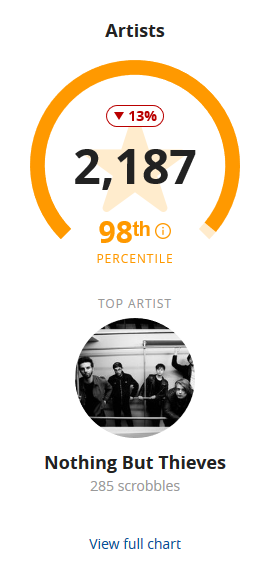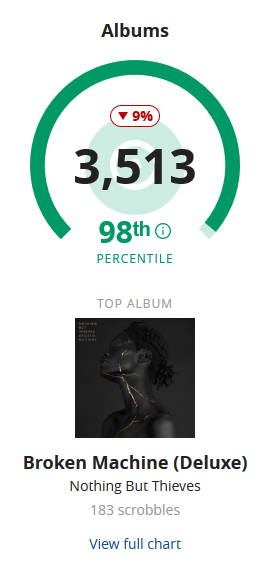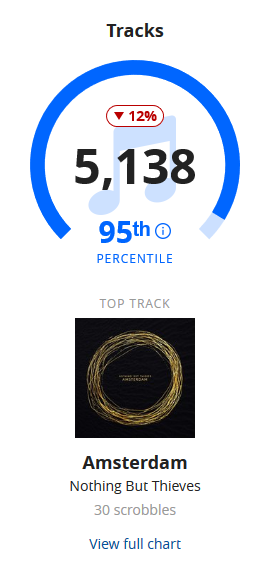 Despite all the new artists, however, my most played band in 2019 was The Midnight, which I first heard back in 2015.
The new artists I discovered in 2019 didn't make it to the top in the album category either. My most played album last year was Lonely The Brave's The Day's War (Victory Edition), which was also my most played album in 2018. The Day's War is an absolutely brilliant album from and ingenious band, and I suspect it will stay high on my listening chart for years. It's a bloody shame that vocalist David Jakes left Lonely The Brave in 2018, but it was for good reasons.
The award for most played track in 2019 goes to Amsterdam by Nothing But Thieves, a band that appeared on my radar in 2015. Amsterdam is a superb track by a great band that I hope I get to see live on stage one day. The closest I've been so far is the video of their live performance of Amsterdam at Dingwalls.
Oh, my.
Everything Stays (Mostly) the Same
One of the most interesting things to do with the Last.fm reports is to compare numbers with previous years. Studying the 2019 and 2018 numbers reveal that my music taste listening habits change little over the years.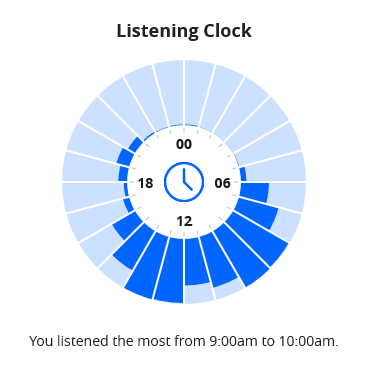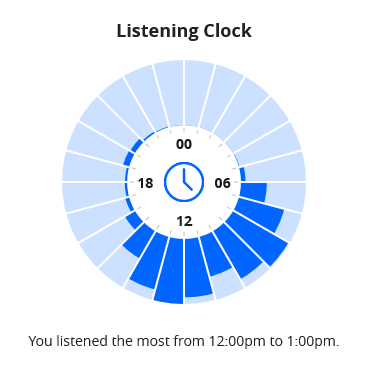 As already discussed, I'm listening to most of my music at work. This is a direct effect of the moronic open office plan where every software developer buys expensive noise cancelling headphones and create their own, virtual office. The main change in the listening time is that I listened to more music after lunch in 2019 than in 2018 when my peak hour was before lunch. I have no idea why this changed.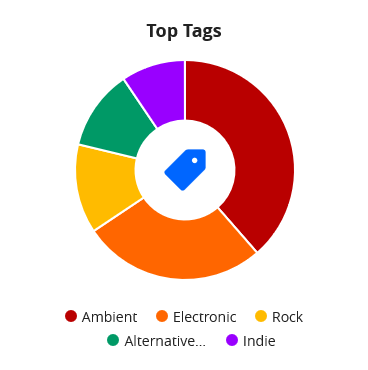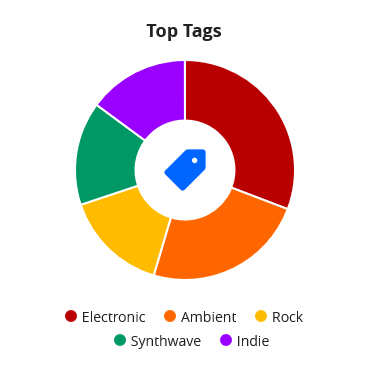 There is one interesting change in the top tags in 2019 compared to 2018. The alternative rock genre has been replaced by synthwave, a change that is evident by The Midnight being my most played band in 2019.
The rock and indie genres still hold about 33% of the top genre pie chart in 2019, though. That's roughly the same amount that rock, indie, and alternative rock covered in 2018.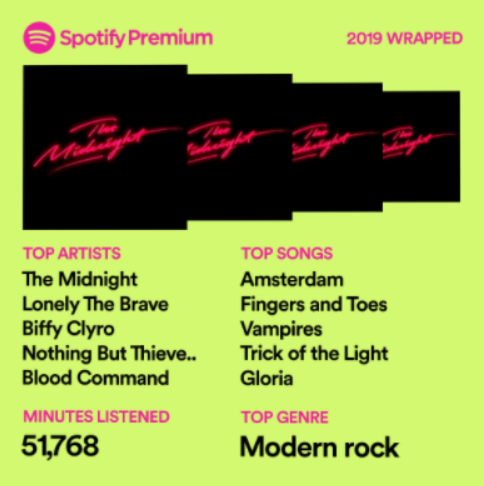 Over to You, Spotify
Spotify also compiles a summary of their users' listening year. The problem with their recap, however, is that it is published before the year's end, and thus contains incomplete data. Shame! They also present the data differently every year, which makes it hard to compare data from previous years.
The data presented by Spotify focus on mostly the same as Last.fm. Nevertheless, Spotify has dug up some interesting information.
According to Spotify, I played The Midnight for 40 hours, and I had the pleasure of listening to artists from no less than 65 different countries. My top genres were modern rock, retro electro, EDM, electronica, and compositional ambient. Among the 856 new artists I listened to in 2019, Laurel got the most play time with 8 hours.
Selected 2019 Discoveries
Spotify's Release Radar and Discover Weekly playlists are a great tool for discovering excellent artists making awesome music. Here's a selected few of my new introductions from 2019.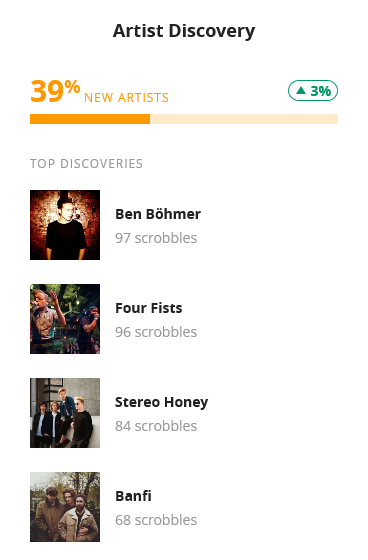 Lane 8
Denver-based DJ and producer Daniel Goldstein makes smoothly flowing, melodic house music under the name Lane 8. Whether he's working with guest vocalists or crafting exquisite instrumentals, he always writes songs that gently ebb and flow, functioning as emotional journeys rather than mere club tracks.
Goldstein is well known for prohibiting phones and cameras from his concerts, forcing the audience members to live in the moment and share a communal experience rather than spending the entire time posting on social media.
Ben Böhmer
Ben Böhmer's childhood was minted by musical fulfillment through learning the piano, the trumpet and growing up under the influence of many different musical genres. It wasn't until years later, that he came to electronic music through experiments with synthesizers and became a producer.His live sets are an absolute highlight as he improvises around his own productions which have appeared on such esteemed labels as Anjunadeep, Keller Rec., or Sacrebleu.
Four Fists
Sometimes the best way for artists to keep pushing ahead is to remember who their people are – especially when they're the ones they've known for ages and have been itching to work with from the very start. P.O.S and Astronautalis, have been making guest appearances on each other's records for over ten years. That makes a collaborative project like Four Fists both inevitable and necessary at the same time: it's the team-up of two of Minneapolis' most stylistically fearless artists, both of whom simultaneously inhabit the worlds of hip-hop and indie-punk in a way that the Twin Cities music community has always welcomed.
Sam Fender
Very little has stood in the way of young North Shields artist Sam Fender and his rapid ascent throughout 2018. Having toured the UK and Europe relentlessly, building himself a loyal, passionate army of fans, Sam writes honestly and candidly about subjects of social and generational significance, broadly drawn from his experiences growing up in the North East of England.
Sam wraps his pertinent words in rousing, propulsive, arena-sized guitar anthems and delivers them directly with a cavernous, powerful vocal. His debut EP Dead Boys is a mighty statement of intent, recorded just a stone's throw from the River Tyne.
Equador
Singer Bo Bruce and producer/musician Henry Binns met whilst working on tracks for what would become Bo's top ten debut album in 2013, and immediately hit it off as a writing duo. In 2015 the pair holed up in the Zero 7 studio, Henry being one half of that hugely popular Mercury nominated group, writing and recording early versions of what would become the new album by Equador.
The result is an album of extraordinary beauty, taking Bo's distinctive voice, most recently heard on electronic dance hits for the likes of Gareth Emery and Chicane, and fusing it with a unique sound that combines elements of 90's downtempo ambience coupled with the haunting sound of 60's mellotron and wurlitzers.
---
Feedback
This post has no feedback yet.
Do you have any thoughts you want to share? A question, maybe? Or is something in this post just plainly wrong? Then please send an e-mail to vegard at vegard dot net with your input. You can also use any of the other points of contact listed on the About page.
---
| | |
| --- | --- |
| | Music |
| | 2020-01-11 18:41 CET |