2019 Norwegian Municipal and County Council Elections
It's only two weeks left now until you can drop your ballot at the 2019 Norwegian Municipal and County Council Elections on September 9. Have you decided yet?
Once again you have the chance to make a difference by voting in an election. Two years ago, it was the Norwegian Parliamentary Election, this year it's the municipal and county council elections.
I'm not a very politically active person, but I make a point of voting in every election. If you don't I'm sorry to say that you're a moron. It's your duty as a registered citizen in a democratic country to make an effort to show up at a polling station. In some countries, people die for the right to vote, and to decide who'll make all the high level decisions that affect their everyday lives. And you're just going to sit on your ass, complaining that the government does a terrible job? Then fuck you.
If you can't find a political party that aligns with your believes and opinions, you can at least go to a polling station and cast a protest vote.
Same procedure as every year
In this election, like the previous three, my vote will be entirely green. It's my opinion that every single political decision should have a environmentally sustainable foundation. That should have been the case for the last 30 years, but today it's more important than ever before. Only one other party shares this fundamental idea, and that's the Green Party.
In the previous 10 years, I've gradually moved further and further towards the left side of the political spectrum. This has been fueled mostly by my belief that environmentally sustainable politics is the one and only right way to do things now. The repeated statements and actions from politicians representing the other - right - side of the political spectrum makes the move towards the left even more important. They make it blatantly obvious that they don't give a shit about the environment, other people than themselves, and even basic human rights.
I used one of the many online what-should-I-vote-this-year-services, and it shows the following, non-shocking, result: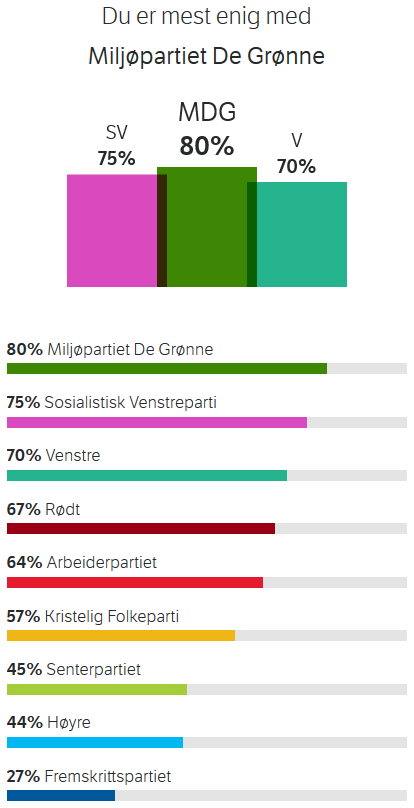 How And Where Do I Vote?
Voting is amazingly easy. Show up at a polling station with a valid ID. You don't have to bring the polling card you either received via snail mail or digitally, but it will save you some time if you do. Grab the ballot papers you want to use, get them stamped, and drop the papers in the ballot box. And you're done!
More details on the voting process can be found here.
It's important to know that you don't have to wait until the September 9 election day to vote. You can vote in advance, as well. Advance voting started on August 12, and will continue until September 6. You can find a polling place to place your advance ballot here.
If you are unable to get to a polling station, you can get help to vote at an institution, or in your own home. Please see the voting assistance information page for further details.
Who can Vote?
If you're a Norwegian citizen above the age of 18, or who turn 18 this year, you can vote. But you don't have to be a Norwegian citizen to vote if you've been a registered resident in Norway long enough.
Nordic citizens who have been registered as residing in Norway since 30 June 2019 can also vote. The same goes for foreign nationals from a country outside the Nordics who have been registered as residing continuously in Norway for the last three years before election day.
So in practice, your citizenship doesn't matter. As long as you're 18 years or older, and have been a registered resident long enough, you can vote!
More details about who can vote can be found here.
You don't have an excuse to not vote. You can even do it today. Go to an advance polling place today and cast your ballot!