It's time for the fourth and final annual wrap up post; the one about music.
Last year, I cancelled my Spotify Premium subscription, and moved to Deezer. It's pretty much the same shit, in very similar wrapping, but Deezer doesn't do the Wrapped features Spotify does every year, so I don't have any fancy graphs and visualization from there. But I still use the brilliant Last.fm service, so information about everything I listen to gets stored there regardless of which streaming service I'm using.
Because of the COVID-19 pandemic, I've worked from home since the middle of March last year, and I've spent a lot of time on the phone with my colleagues. I thought that would seriously impact the number of tracks I'd listened to in 2020 compared to the pre-pandemic long-long ago, but for reasons we'll get into, that's not the case. I listened to 14 403 tracks1 in 2020, up by 7% from 13 555 tracks in 2019. Total listening time naturally increased as well, up by 22% to 39 days, 22 hours in 2020 compared to 2019's 32 days, 23 hours.

The graph above shows the number of tracks I listened to each month. August to September shows the kind of pattern I'd expect for someone working from home. But February to July and both November and December shows a complete opposite pattern.
All this weirdness can be explained, however. During spring last year, I spent most of my free time migrating this site from WordPress to Hugo. I did that during the evening, which is apparent from the listening clocks below. Notice the rather large number of late afternoon and evening tracks in 2020 compared to 2019.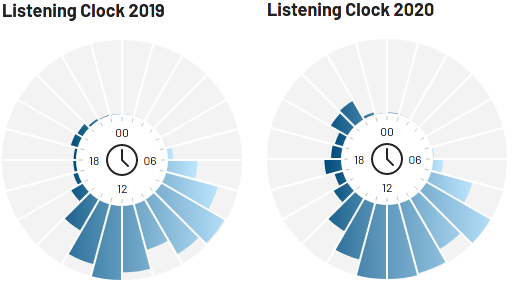 July is also a month that saw considerably more tracks being played in 2020 compared to 2019. The reason is simple: In between the first and the second pandemic wave in Europe, we took the car to Denmark, which involved quite a few hours of keeping the kids entertained while on the road. One of the entertainment sources was music.
There is also a good reason why I listened to more music in both November and December last year compared to 2019 even when working from home. During those two months, I was spending way too much time in Confluence, ironing out development tasks and writing GDPR documentation. Nothing sucks the will to live out of me quite like Confluence and GDPR, so a massive thank you goes out to every artist I listened to that kept me sane for those two months.
Top 5 Artists
So what did I listen to, then? The four most popular artists in 2020 remained unchanged from 2019, but the order is different. In 2019 it was
while 2020 gave this order
Nothing But Thieves
Biffy Clyro
The Midnight
Lonely The Brave
2020's fifth spot is interesting. I played Halsey 193 times last year, and the wast majority of the plays was in December, when I discovered her album BADLANDS (Live from Webster Hall). I'm a total sucker for live albums.
Notable 2020 discoveries
Halsey
From Last.fm: Ashley Nicolette Frangipane (born September 29, 1994 in Edison, New Jersey), known professionally as Halsey, is an American singer and songwriter. Her stage name is a reference to the Halsey Street station of the New York City Subway in Brooklyn, and is an anagram of her first name. Halsey's music is categorized as indie pop ballads, usually based on her personal experiences. Her awards and nominations include four Billboard Music Awards, four iHeartRadio Music Awards, two Teen Choice Awards, one GLAAD Media Award, one Global Award, a Guinness World Record, a MTV Video Music Award and a Grammy Award nomination. Outside of her career, she has been involved in suicide prevention awareness and sexual assault victim advocacy.
hello meteor
Hello Meteor is a Seattle based artist who produces dreamwave music.
"Hello Meteor is like a warm, narcotic blanket of synth" – Drive Radio
Chillhop
Chillhop is not an artist, but musical genre, a slow, down-tempo form of hip-hop, emphasizing low, droning beats and a slow rhythm.
From Wikipedia: In 2013, YouTube began allowing its users to host live streams, which resulted in a host of 24-hour "radio stations" dedicated to microgenres such as vaporwave, a derivation of chillwave. In 2017, a form of downtempo music tagged as "chillhop" or "lo-fi hip hop" became popular among YouTube music streamers. Chillhop became one of the most widely known microgenres and may also be viewed as chill-out music fused with hip-hop. Nujabes and J Dilla have been referred to as the "godfathers of Lo-Fi Hip Hop".
Viewership of lo-fi hip hop streams grew significantly during the 2020 COVID-19 pandemic. In April, MTV News noted, "there might be something to be said for lo-fi hip-hop's composition, and the way its creators mix simplistic melodies with a judicious use of words to create intense memories, feelings, and nostalgia" and stated that the quarantine in place in various countries "has led people to log more hours online due to boredom or virtual workplaces and schools, and livestreamed music performances are reaching their full potential."
---
On average more than 84% of all Last.fm users. ↩︎
---
Feedback
This post has no feedback yet.
Do you have any thoughts you want to share? A question, maybe? Or is something in this post just plainly wrong? Then please send an e-mail to vegard at vegard dot net with your input. You can also use any of the other points of contact listed on the About page.
---
| | |
| --- | --- |
| | Music |
| | 2021-01-03 07:35 CET |