Candy Test Part I
I try not to eat too much candy. Christmas and Easter are exceptions, and I usually buy a little a couple of times a year in addition to that. Because of this, it's very, very important that when I eat candy, I only eat the best. To make sure that I will (and as an excuse to eat some candy) I've decided to test a lot of sweets and grade them all based on the following criteria:
Presentation: Color and shape is important. A piece of candy should both taste and look good to ensure ultimate satisfaction.
Taste: Of course the most important part of a piece of candy.
Consistency: What happens when you put your teeth into it? So gross you want to spit it out or do you just want to stuff your mouth full of them?
Duration: How long does the candy last? If it tastes good, we want it to last as long as possible.
Each criteria will be graded from 1 to 6, where 1 is the worst and 6 is the best score. An overall score, that tries to reflect the general impression of the candy and not necessarily the average score, is also given. First up is the candy you can buy at Lucky Lips next to the Saga cinema in Oslo. I stopped by and bought one piece of most of what they had.
Am I nuts? Yes, I am.
Salty Licorice Foot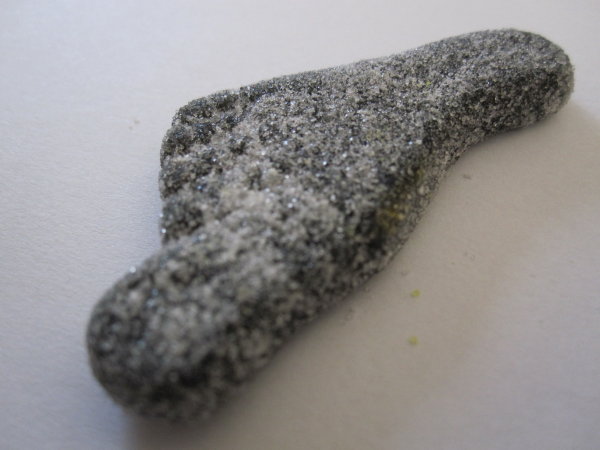 Presentation: 3
Taste: 5
Consistency: 4
Duration: 3
Overall: 4
It looks like a foot. The concept of putting a foot in my mouth doesn't usually work very well for me, but I like licorice. After a few seconds inside your mouth, when the salt covering the surface is gone, you'll start to notice a hint of sweet licorice, a very nice touch. The salty licorice foot feels like it works best when being chewed, so it won't last very long.
Huge Yellow Banana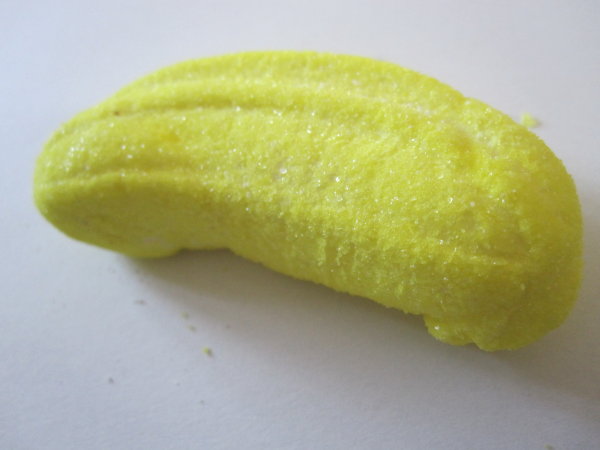 Presentation: 3
Taste: 1
Consistency: 1
Duration: 3
Overall: 2
This thing is large. And very, very yellow. I'm suspecting that if the power goes out, I might be able illuminate my entire apartment with three or four of these bad boys. Maybe even run a couple of appliances. It's too large to eat all at once, unless you plan to make someone laugh. When you take a bite, you'll be surprised to know that it contains a core of chocolate. Unfortunately, this mix of banana and chocolate doesn't work well.
Milk Chocolate with Smarties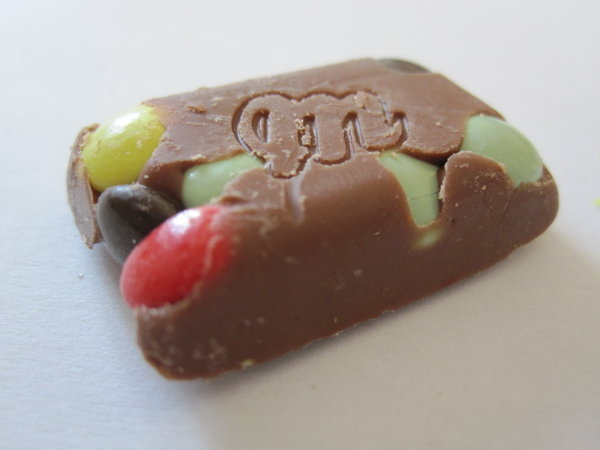 Presentation: 3
Taste: 5
Consistency: 4
Duration: 2
Overall: 4
At least it contains something that looks like Smarties, but by calling them "Smarties", I'm probably violating some trademark. The candy doesn't look all that tempting, it resembles a piece of ordinary chocolate that fell down behind the stove, and while it was there something started to grow inside of it. The chocolate tastes well, though, apparently the stay behind the stove was good for it. But the experience won't last long.
Multicolored Gummi… Mountain?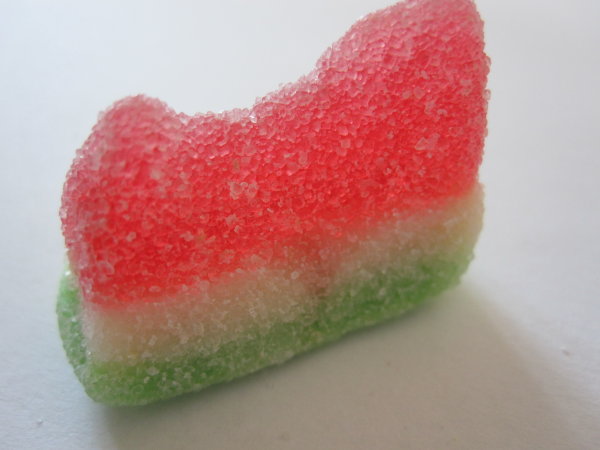 Presentation: 2
Taste: 1
Consistency: 3
Duration: 2
Overall: 1
I have no idea what this is. Maybe it's a mountain. Or perhaps a car. I'm not even sure if it's gummi. It's covered in sugar and tastes a bit like soap. And some kind of vegetable. The taste of soap is stuck in your mouth for a while after you've finally swallowed the candy, and I feel a little dizzy.
Large Black & Brown Fudge Thingy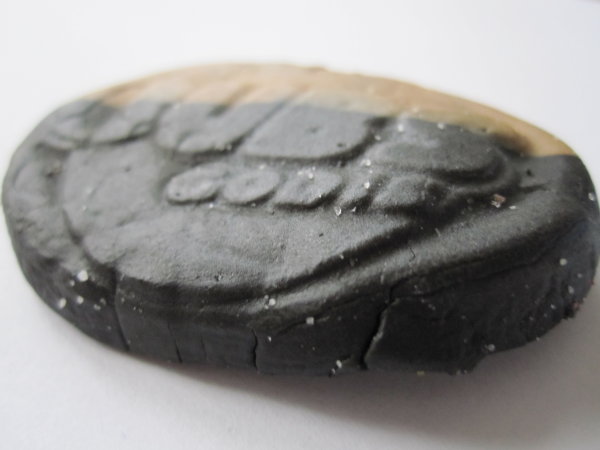 Presentations: 3
Taste: 2
Consistency: 2
Duration: 4
Overall: 3
Based on the colors, I'm guessing it should taste like licorice. At least that's my first impression of this candy piece labeled "Bubs Godis". It's a bit too large to put it all in the mouth at once, so I decided to take a bite that coverts both the brown and the black part. The best of both worlds? The taste, which resembles mild licorice, is not too bad, but not that great either. It feels a bit like chewing gum, but melts a bit while you're chewing it. Weird.
Pink Hard Candy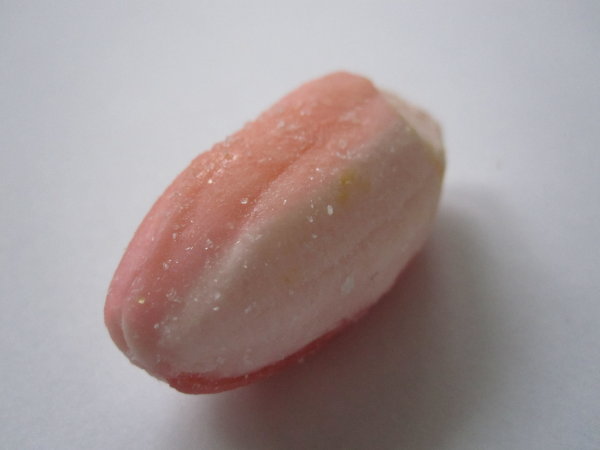 Presentation: 3
Taste: 3
Consistency: 4
Duration: 5
Overall: 4
This is the kind of hard candy you have to suck at to really enjoy. The first few seconds are a bit sour. Then the taste turns rather neutral with a hint of synthetic strawberry until you reach the core where the same sour stuff used for coating is found again. A bit too sour for me, actually. An interesting surprise if you're not prepared and extra interesting if you're drinking soda at the same time.
Black & White Sticky Licorice Caramel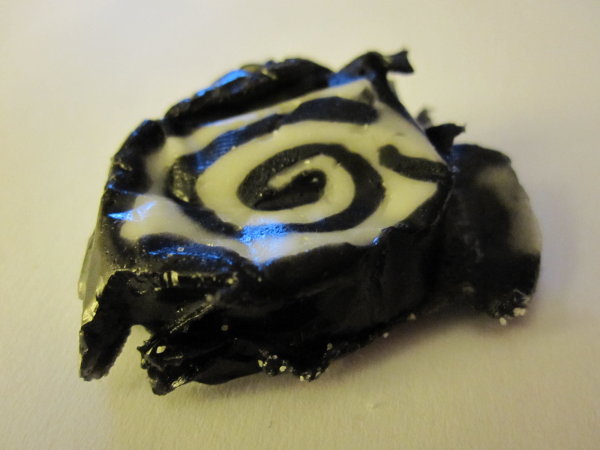 Presentation: 4
Taste: 5
Consistency: 4
Duration: 4
Overall: 4
If you don't like candy that gets stuck to your teeth, then stay clear of this one. Personally, I don't mind the stickiness. It's also quite hard, so this is nothing for someone with bad teeth. This piece is also a challenge for your jaw muscles, and it'll last for some time, even if your chewing away frantically.
Shiny
Banana

Caramel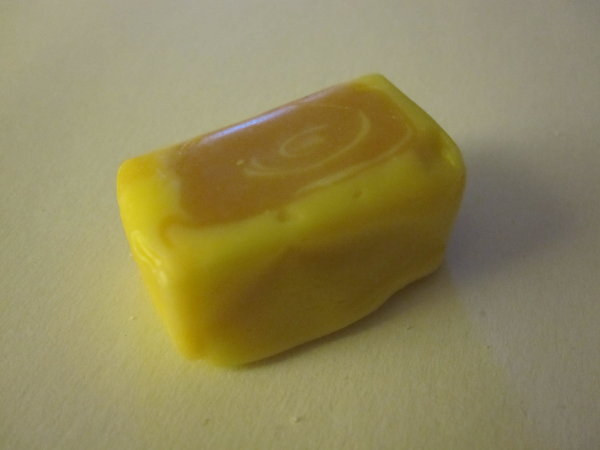 Presentation: 4
Taste: 2
Consistency: 3
Duration: 2
Overall: 2
By the smell that hit me when I removed the plastic wrapper that was sticking to the caramel, I guessed that the taste would be pretty synthetic. To be honest, I was a bit surprised that the taste wasn't really banana at all, or just a faint resemblance at best. Unlike the Black & White Licorice Sticky Caramel, this one is rather soft and only lasts a few chews.
Basic Light Chocolate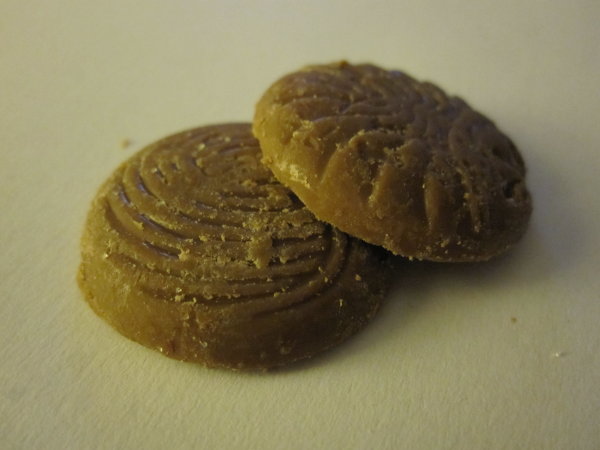 Presentation: 3
Taste: 1
Consistency: 2
Duration: 1
Overall: 1
Well, it looks like two ordinary pieces of your average light chocolate. Can it possibly fail? Oh, yes, it can. I got a little nauseous after eating it, the taste got stuck in my mouth so long I had to wash it out with water. Only give this to your worst enemies.
Cola Worm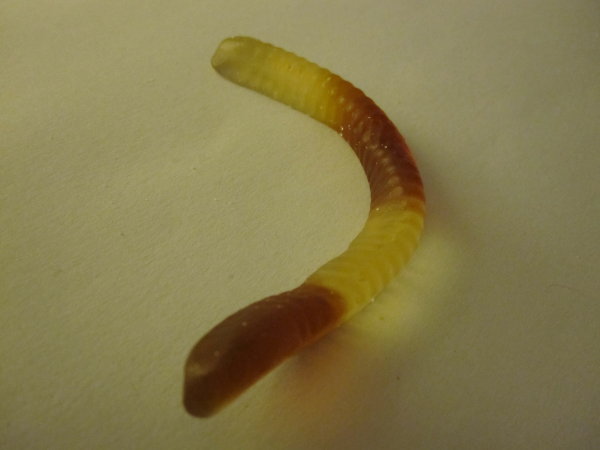 Presentation: 3
Taste: 4
Consistency: 4
Duration: 4
Overall: 4
Small kids eat worms they find in the dirt. The grown ups tell them that it's a no-no and later give their kids candy shaped like a worm. I can see why they get a little confused. This worm, as opposed to the ones in the dirt, has a surprisingly good taste (given that you like coke, that is). If you want to suck on it, the worm will last for ages, and it will give you a nice challenge if you decide to chew as well.
---
Feedback
Do you have any thoughts you want to share? A question, maybe? Or is something in this post just plainly wrong? Then please send an e-mail to
vegard at vegard dot net
with your input. You can also use any of the other points of contact listed on the
About
page.
Yup, you´re nuts :) Og hva skjedde med å ikke invitere godisavhengige venninner til et slikt kalas??
Thanks for that thorough review. :)

I like the salty feet and chocolate covered smarties is ok, though Minde doesn't have nearly as good milk chocolate as Freia or Nidar. The rest of the pieces are, well nothing special.
Looking forward to part II, where I assume classics like the black crocodile, sour feet and coke bombs will be covered?
According to Susanne this is the most important piece written on the internet ever!
I've got an insane mountain of candy pieces left, so I'll post both part II and III and maybe even more eventually. Not sure if there are any classics in the pile, though. Let's team up, Life Mary!
---
It looks like you're using Google's Chrome browser, which records everything you do on the internet. Personally identifiable and sensitive information about you is then sold to the highest bidder, making you a part of surveillance capitalism.

The Contra Chrome comic explains why this is bad, and why you should use another browser.