China is an interesting place, there's no doubt about that. Not only is the 80% of the Chinese shorter than the average European, meaning that you can enjoy the scenery no matter how many people is standing in front of you - and considering the number of Chinese, someone is always standing in front of you - they have also invented a clever Love Kit for the active business man.
The hotel I stayed at while in Shenzhen is a typical business hotel, so the staff make sure everything the typical Chinese business man may need is easily available to him. At the third floor they have a typical karaoke bar with all the extras - you know what kind of extras I'm talking about - and in the room bathrooms, you find The Love Kit: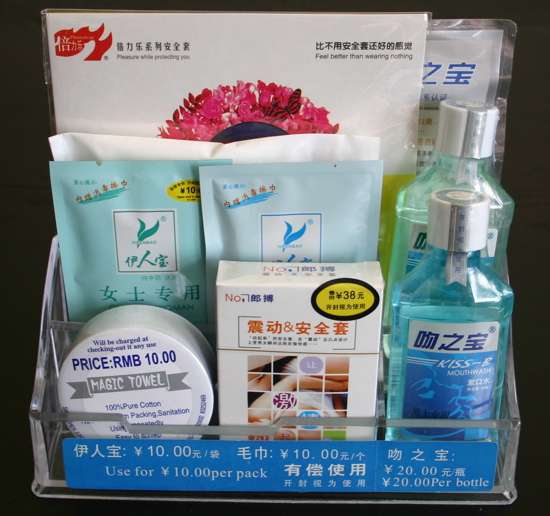 The day I checked out, I took a complete kit with me. Let's have a closer look at it.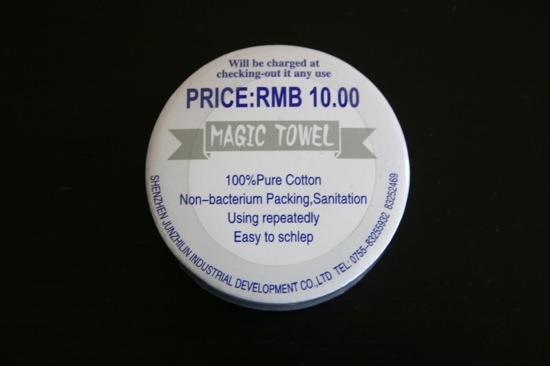 Magic Towel: You have probably seen "magic" towels and clothing before. Simply unwrap, add water and there you have a brand new towel or a piece of clothing. The problem with the towel is that since you add water, you'll have to wait until it dries before you can use it.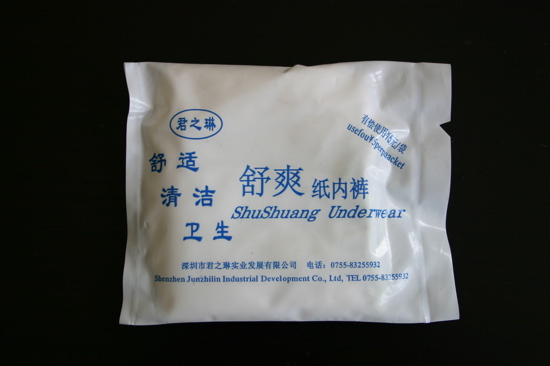 ShuShuang Underwear: I haven't opened the package, but I don't think there is anything magical about this one, it's probably just a piece of cheap - about 60 cents - underwear.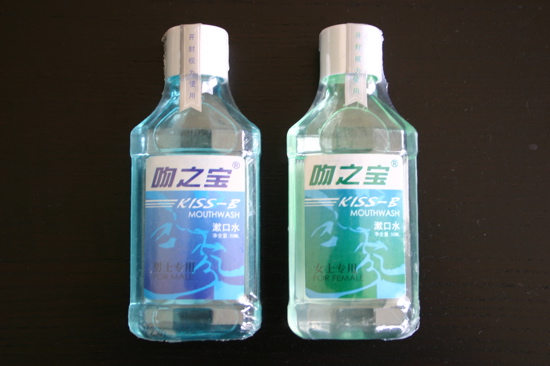 Kiss-B<: Mouthwash with special formulas for him and her. The English translation on the package: "When you and your lover are kissing crazily, if there comes the unpleasantly peculiar smell of smoke or alcohol, halitosis or germs, etc., Wouldn't the romance be cut down? Take it easy! Why not use Kiss-B? Kiss-B Mouthwash is a medicinal preparation made of thirteen rare Chinese medicines. It can help men and women to produce more salvia and amylase so as to get a more enchanting feel. The only-for-men Kiss-B Mouthwash can quickly clear away the white spots on the membrane in the mouth, get rid of dirt and clear out grease. The only-for-women Kiss-B Mouthwash can not only clear away peculiar smell, but also prevent the symptom out of using lipstick. Kiss-B Mouthwash will leave you a pink and romantic memory!"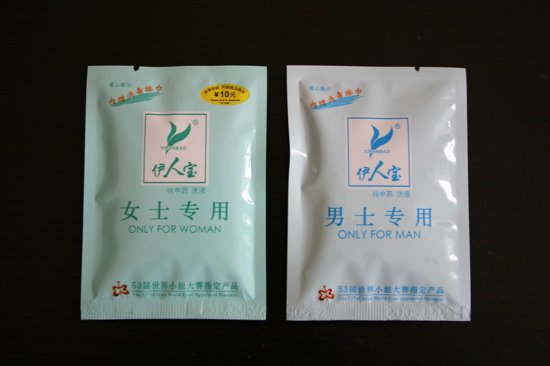 Yrenbao Tissue<: Also for him and her: "This product his specially designed for washing men's genitals. As pure Chinese medicinal preparation, it can quickly kill any kinds of latent germs and pathgen. It's suitable for using at home, on trip, or in swimming, especially before or after sexual intercourse. It can prevent any infectious diseases. Directions: Use this product on and around the pudenda by massaging for 2-3 minutes, the rinse with clean water and wipe with a pasteurized wet towel. It can get a better effort to be used in bath." The best thing about this product is that it's a "53rd of Miss World Final Appointed Product".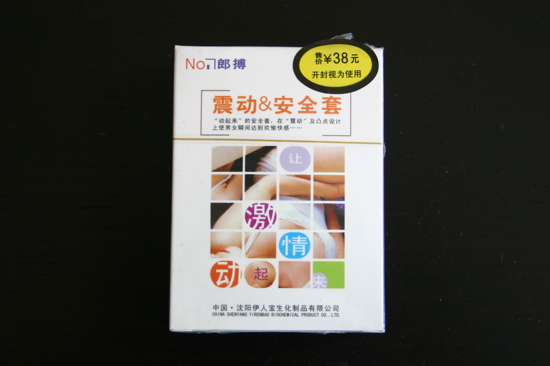 Reins: From the package it's not very easy to understand what this is, but the description says it all and then some: "Reins is a unique vibrator for use on the penis, intensifying sexual pleasure and allowing both you and your partner to climax at the same time. The condom is promotes safe and responsible sex. The condom is a latex product, with spermicidal properties and conforms to EU standards".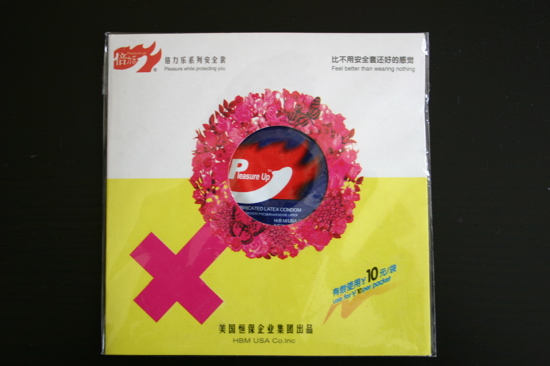 Pleasure Up: A condom with the catchy name Pleasure Up: "Pleasure while protecting you! Feel better than wearing nothing!" Here's what one user says: "The stimulation was ever greater than without a condom. I usually do not like condom, but I do like this one." It's also launched in the US to "American media raves!" Men's Health writes "A must-try", while New York Times calls it "A triumph of excess".
It's everything you need for a perfect night wrapped up in one small package!
---
Feedback
Do you have any thoughts you want to share? A question, maybe? Or is something in this post just plainly wrong? Then please send an e-mail to
vegard at vegard dot net
with your input. You can also use any of the other points of contact listed on the
About
page.
lovely Kit, I wonder where can I get it :P
You can pick one up at the Grand Cho Hotel in Shenzhen, China.
---