Core Worlds Digital
As you probably know by now, Kickstarter is one of my favorite sites. As one of the first crowdfunding sites, it enables people with a good idea a delusional fantasy to find the money to turn their mushroom induced hallucination into something real. Not everything Kickstarter touches turns into gold, though. Campaigners more often than not underestimate the scope of their plans. That leads to massive delays when the project is funded, and the actual work starts. Sometimes, the project even derails completely, and while most of them don't turn into a spectacular train-wreck the size of Confederate Express, there is often some entertainment value in the aftermath.
Here's a look at another Kickstarter campaign I pledged to that promised the moon, but turned into hot air: Core Worlds Digital.
It's Core Worlds but Digital!
I've never been much of a collectible card game player, but like all nerds with some dignity, I've tipped my toes in a bit of Magic: The Gathering. The game provided many hours of much-needed entertainment when I was in the army. I've since donated my respectable collection of cards to a friend of mine, though. Blizzard's Hearthstone hasn't quite clicked with me either.
So why I decided to go ahead and pledge $25 to a collectible card game campaign remains a mystery. The Core Worlds Digital campaign was a joint venture between Stronghold Games, and BrokenMyth Studios. Stronghold Games own the IP for Core Worlds, which is - as you've probably figured out by now - a collectible card game. Together with computer games developer BrokenMyth Studios, they set sail to create a digital version of their Core World IP.
The campaign promised both iOS and Android versions of the game. I went for the reward containing the Android version, and 6 physical collectible cards. The cards would never be of any practical use for me, but they were in the pledge package. Me and 1,167 other backers dumbasses pledged $26,040 to help bring the project to life.
Guesstimation. You Suck At It
Estimated delivery for the iOS version of Core Worlds Digital was December 2014. An alpha build was submitted to iTunes on December 31, 2014. A beta build didn't appear until July 2015, and it wasn't until March 2016 that the release version of the game was made available. Unfortunately, the release was not a raging success. The game was buggy, people complained en masse, and Core Worlds Digital now holds a 1,3 out of 5 rating on the App Store.
It turned out that BrokenMyth Studios had gravely underestimated the complexity of turning physical playing cards into bits and bytes. In an update on Kickstarter, they admit that "the amount of hours that we've invested into Core World [sic] Digital has surpassed 10x what Kickstarter brought in."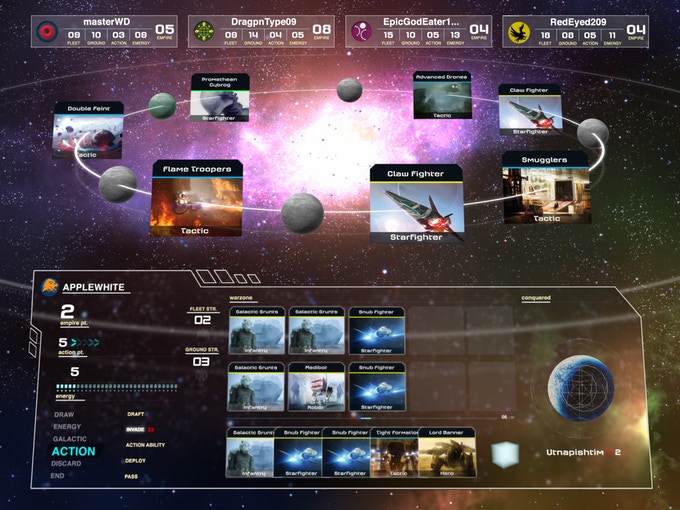 More Failed Promises
What about the Android version of Core World Digital? Stronghold Games and BrokenMyth Studios simply pretended the idea had never existed. It's never mentioned in any of the Kickstarter updates they posted, and pledgers asking for information about the Android version have been conveniently ignored. People are still asking about the Android version in the comments section on Kickstarter. But the silence is deafening. No one has logged in to the Kickstarter account that launched the campaign since July 25, 2016. I think we're all fully aware of the faith of the Android version by now.
I did receive the six physical cards, though. They suddenly appeared in our mailbox on August 1, 2016, almost 2 years after the campaign was successfully funded. It took a while before I realized what I was looking at. Apart from junk mail, they are the least useful items I've had the pleasure of receiving. I can't even use them as coasters, they are too thin for that.
BrokenMyth Studios has since moved on to other, hopefully more successful projects. Stronghold Games seems to have completely forgotten that Core Worlds Digital even exists, as there is not mentioning of it on their website. I can totally understand that the story of Core Worlds Digital isn't one either of the companies tell to impress their friends. But a simple "our bad" would've been the polite thing to do, wouldn't it?
---
Feedback
This post has no feedback yet.
Do you have any thoughts you want to share? A question, maybe? Or is something in this post just plainly wrong? Then please send an e-mail to vegard at vegard dot net with your input. You can also use any of the other points of contact listed on the About page.
---
It looks like you're using Google's Chrome browser, which records everything you do on the internet. Personally identifiable and sensitive information about you is then sold to the highest bidder, making you a part of surveillance capitalism.

The Contra Chrome comic explains why this is bad, and why you should use another browser.