Poking around on my hard drive today, I found this picture taken five or so years ago when I studied in Grimstad. It was a hard life. Also, it's interesting to see that people change.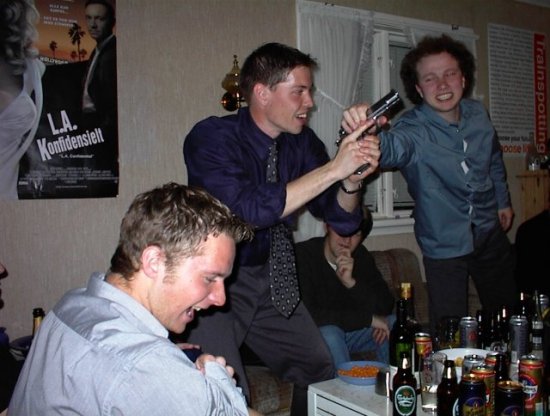 ---
Feedback
Do you have any thoughts you want to share? A question, maybe? Or is something in this post just plainly wrong? Then please send an e-mail to
vegard at vegard dot net
with your input. You can also use any of the other points of contact listed on the
About
page.
Ola: AUCH, why the ")(¤/%& did you shoot me in the arm, Terje???

Terje: Hasta-la-vista, baby…

Hallvard: arrgh.. you stupid mothafokka, now Ola is going to bleed all over the floor..
guns'n alcohol. a great combo.

:-D

K
Living in Trøndelag and all, I bet you're pretty used to that combination.
---