George has a new dream
I'm in the progress of writing the first part of the report for my project. The project is that I'm so overwhelmed with articles and data, that I really don't know where to start. I think I have to play some games for an hour or two just to cool my head down.
Speaking of games. I've had a half-done review of Hard Truck: 18 Wheels of Steel laying around on the server for about a week now. I'll try to get it finished tonight, but I won't promise anything.
I added a bunch of pictures yesterday, today I added even even more! This time about 15 pictures from Erik and Kirsti's wedding, pictures that should have been added a long time ago, but that's just the way it always is.
A new Stuart Carlson strip is also posted for your viewing pleasure today.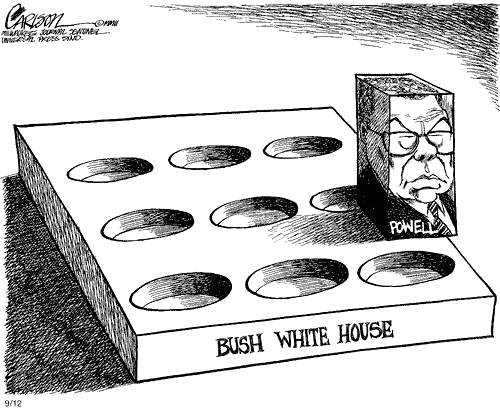 I'm not one thundered percent sure, but I think this gag has something to do with Colin Powell not quite fitting in George's vision of a White House. If you ask me (which you're probably not) I think Powell is one of the few really sane people walking around the White House at the moment. If the Bush administration didn't have the cool head of Colin Powell, we would probably have seen a full scale war just days after 9/11.
---
Feedback
This post has no feedback yet.
Do you have any thoughts you want to share? A question, maybe? Or is something in this post just plainly wrong? Then please send an e-mail to vegard at vegard dot net with your input. You can also use any of the other points of contact listed on the About page.
---
It looks like you're using Google's Chrome browser, which records everything you do on the internet. Personally identifiable and sensitive information about you is then sold to the highest bidder, making you a part of surveillance capitalism.

The Contra Chrome comic explains why this is bad, and why you should use another browser.