As usual when I'm a bit slow on the updates I blame it on work, it looks like things could begin to pick up the pace now. For instance, I've made a billing gateway that went into production yesterday, and I'm working on a few stability issues on it. I'm also in the middle of making an XML-FTP API, which might turn out to be quite neat.
Of things that have happened over the last couple of days, I guess it's worth mentioning that I met with Hege on Tuesday. The last time I met her alone was about a year ago, and that's a bit sad, because she's a great person and I work with her boyfriend every single day so I guess it wouldn't kill me to try to get to see her more often.
Today I went out with Hans Olav and one of the girls he lives with and had a cup of coffee. Good times. Hans Olav is one of the two people I'm adding to the cast when I get the time. Guess who the other one is.
Tomorrow Kine is coming to Oslo with a friend, so I might meet up with her, on Saturday I'm working and going to a Halloween party and I'm hopefully taking Sunday off.
Life lately has generally been Good Times. Except for the odd - and thankfully very short - ride on the Emotional Roller Coaster.
My X3 chip arrived today. Unfortunately, I don't have the soldering skills to install it (maybe it's solderless, I'm not sure), nor a new hard drive or a switch and a network cable that I'll need to hook the box up to the local network. Maybe I'll just get one of those wireless adapters.
Cali es Cali are having a Halloween special, and because of that I'll post a picture for you, even if it's not Friday. Enjoy.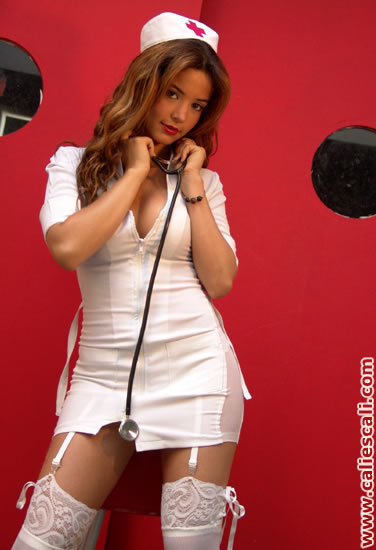 ---
Feedback
Do you have any thoughts you want to share? A question, maybe? Or is something in this post just plainly wrong? Then please send an e-mail to
vegard at vegard dot net
with your input. You can also use any of the other points of contact listed on the
About
page.
Heeeeeelllloooo NURSE!
:-D

cum take care of Daddy….
Who else but you, dude…
a friend of me up here in trondheim actually wanted me to teach him how to keep the dirty comments rolling. he felt like he's running out, but I never do. He wants to know the secret. hehe..
Teach him your secrets, masters - and point him to this site, I always need more comment zombies.
More comments for you, master…

Always there is two, the master and the apprentice.
Hmm, I feel so sick, I need a nurse to take care of me… can I have that nurse please? Noo?? hmm, never mind then.
You already have a nurse, dude.
A friend of mine told me that she has a costume just like this one. maybe I need to confirm it first hand. hmm…..
;-)
I'd to put something up your butt
She can stick her fingers up my butt!
---