Homeworld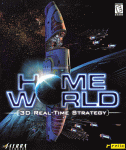 Homeworld - Relic Entertainment's masterpiece. The winner of the E3 Game Critics Award '99 for Best Strategy and a twenty feet list of other awards. It's several reasons for this: The killer graphics, the awesome game play, the thrilling skirmish mode, the beautiful ambient music, I can just go on and on.
I bought Homeworld the day it hit store shelves and I have yet to get bored while playing it. I have to admit that I don't play the campaign anymore (playing the same story over again and over again is a bit repetitive), but every now and then I play a round of multiplayer skirmish and it's great fun every time.
Homeworld goes out highly recommended, not just to strategy gamers but also to players of other genres. This is not just a thinkers game. It's also packed with a lot of sweet guns and heavy action. Ever wanted to control an ion cannon the size of a medium sky scraper? Now is your chance.
Real-time strategy. Real 3D. Real Game.
---
Feedback
This post has no feedback yet.
Do you have any thoughts you want to share? A question, maybe? Or is something in this post just plainly wrong? Then please send an e-mail to vegard at vegard dot net with your input. You can also use any of the other points of contact listed on the About page.
---
It looks like you're using Google's Chrome browser, which records everything you do on the internet. Personally identifiable and sensitive information about you is then sold to the highest bidder, making you a part of surveillance capitalism.

The Contra Chrome comic explains why this is bad, and why you should use another browser.