I couldn't come up with a good heading
The party has started in Baghdad. It's on 24/7 on CNN, where I can stare at a greenish picture of the sky, with the occasional white dot flying by. Oh, joy… I hope this thing is over soon. And I bet you $10 that the invading forces will find some "weapons of mass distraction". If you've got a few minutes to spare, I recommend that you read A Letter from Michael Moore to George W. Bush on the Eve of War by Michael Moore. It's a good read, indeed.
I went down to Stine's place last night and took a few portraits of her. I'm still learning a lot, experimenting with the white balance, moving light sources around in the room, shutter times and so on. Some of the picture got rather good, not because I did what I was supposed to do photo-technically, it was rather that she just looked good on them. I also went to a photo shop to ask what I had to pay for a decent camera stand, and it looks like I can get a good one for around $60. And that's not too bad. But the first thing I need are some new shoes, though. Then the camera stand.
Pictures of incredibly good looking Swiss girls can actually provoke people so much that they puke. At least that's what I'm told in my guestbook. It's a fascinating fact, because I thought it were really ugly people that would make you vomit. Anyway, I recommend that everyone who get nauseous when they see pictures of pretty women to close their eyes, because here is another picture from the same set: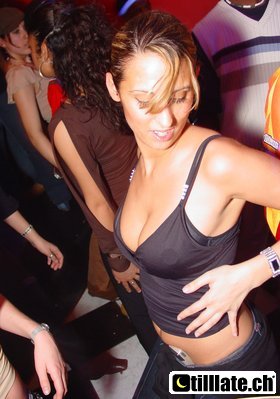 "Provokative", you say..?
Attention: The site is about to be moved to a new server. In this progress you might experience a few glitches, like disappearing entries, a couple of error messages and so on. Hopefully everything will be back to normal in a day or so.
---
Feedback
This post has no feedback yet.
Do you have any thoughts you want to share? A question, maybe? Or is something in this post just plainly wrong? Then please send an e-mail to vegard at vegard dot net with your input. You can also use any of the other points of contact listed on the About page.
---
It looks like you're using Google's Chrome browser, which records everything you do on the internet. Personally identifiable and sensitive information about you is then sold to the highest bidder, making you a part of surveillance capitalism.

The Contra Chrome comic explains why this is bad, and why you should use another browser.