I'm not that much of a Suede fan, it seems. I recognized 4-5 songs, and every one of those have had air-time on some radio station. There is not a single Suede album in my CD collection. Still, it was a nice concert, live music is in general a nice thing. Going to a Matthew Good concert, on the other hand, would not only have been nice. It would've been the ultimate gig. It's on my to do-list.
Christmas is coming up, and I decided to treat myself to an early Christmas-present. Or actually two. First, I bought an extra 256MB of RAM for my laptop, not because I really wanted an extra 256MB of RAM, but because I had to buy it. I'm using my own laptop at work, and I'm currently working on a project requiring me to use the IntelliJ IDEA, Microsoft Internet Explorer (sigh) and the Tomcat. Using all these on the same time makes my computer go into a swapping-frenzy every time I'm deploying the webapp, and since laptop hard drives aren't exactly known to be the fastest ones around - at least they weren't when I bought my Dell - deploying the app never takes less than 40 seconds. If you think that's annoying, imagine what I look like when both Tomcat and IntelliJ decide to do a garbage collection at the same time. Yay. Spending $100 on extra RAM hopefully solves the problem.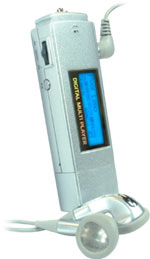 The real treat for me this Christmas will be the lovely JOS MP-110 256. The player is designed by the 24-year old Swede Jens Nylander and manufactured by Korean I-Bead, comes with 256MB built in memory (which is twice as much as I've currently got on my NexII player), MP3 and WMA support, FM radio and FM radio recorder (we like that) and Digital Voice Recording. The battery lasts for a good 14 hours, it's recharged in 3 hours via a USB port and it's firmware upgradeable. More info on mp3players.co.uk. I ordered the player on Thursday evening, with the option of having it delivered to my door in the evening, hopefully the next day. The package probably wouldn't come to Oslo until after the post office had closed and having it delivered on Friday night would mean that I wouldn't have to wait to Saturday to play with it. What a great idea!
Wrong again.
The package didn't come to Oslo until nine in the evening, so I was right in that it wouldn't arrive until after the post office had closed. But it arrived four minutes after they stopped delivering at the doors. And since they don't do that during the weekends, I won't get the player until Monday night, instead of Saturday, which would have been the day of delivery if I hadn't chosen the deliver-at-my-door-option. Oh, well, I really don't care. I'll get it on Monday.
Tons and tons of other good stuff happens on Monday, too. That's tomorrow. And I'll probably tell you more about it then.
---
Feedback
Do you have any thoughts you want to share? A question, maybe? Or is something in this post just plainly wrong? Then please send an e-mail to
vegard at vegard dot net
with your input. You can also use any of the other points of contact listed on the
About
page.
He's back.. yeahy!! .. somehow the day suddenly seems brighter..
I live to make things look brighter, so mission accomplished.

Wazzup?
congrats by the way! yay for the two of you! :-D
Thank you. Yay for the two of us!

And a little bit of "good luck" probably wouldn't hurt either.
---