Today I'm starting a new feature: In Stuart's World! Stuart Carlson is one of the best editorial comic artists around today. He's got some very good points. I'm not going to keep an archive of the available Carlson comics on this site, but you will always find the comics posted earlier in the log archives. Of course, there are none there yet.
Unfortunately, Mr. Carlson is not releasing his strip on a daily basis, but when he eventually gets one comic published, it's usually very good. To get the point, you have to be watching the news. Enough about that, here's todays Carlson followed by some facts about the man. If you want more, you can head over to his syndicate's site at www.ucomics.com.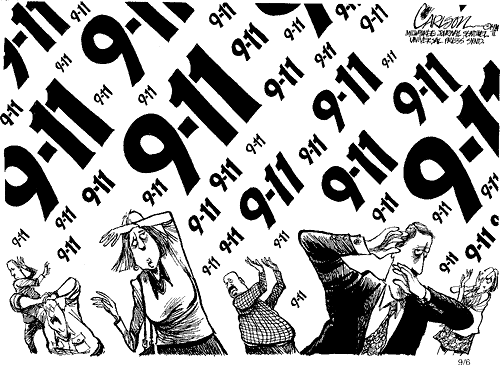 As a youngster growing up in West Bend, Wis., Stuart Carlson exhibited a knack for cartooning at a tender age, sometimes drawing on the walls of his parents' apartment with lipstick.
Before joining the Milwaukee Sentinel in 1983, Carlson was a reporter, cartoonist and editor for a weekly newspaper and a small daily newspaper in Wisconsin.
Carlson's ability to translate current events into cogent visual statements has won him several awards, including the 1995 John Fischetti Award; his selection as the nation's best cartoonist in 1991 by the National Press Foundation; numerous best cartoon of the year honors from the Milwaukee Press Club; the 1986 Robert W. Gillespie Sentinel Staff Award for Excellence; and the 1988 University of Wisconsin-Milwaukee's Young Alumni Award.
His work has appeared in The New York Times, Newsweek, The Washington Post, Barron's, Playboy magazine, and on ABC News' Nightline.
Carlson lives in a maintenance-intensive Victorian house in Milwaukee with his wife, Mary, daughters Caitlin and Bridget, and son, Brandon.
---
Feedback
This post has no feedback yet.
Do you have any thoughts you want to share? A question, maybe? Or is something in this post just plainly wrong? Then please send an e-mail to vegard at vegard dot net with your input. You can also use any of the other points of contact listed on the About page.
---