Lauren, party and moving
I've got a lot of stuff to do today, so I won't have time to push all the pictures from Wednesday's party online, but I'll give you one, just to show how crowded it was. I call it "We should have covered the carpet":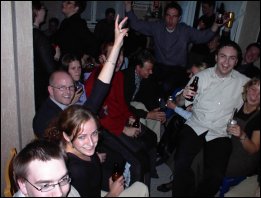 In other news: A link to the humble home of Lauren and Jamie, zagzig.net, is now up, click on the picture to your right to visit their site - it's nice.
Attention: To those of you who are waiting for e-mails, ICQ-chats and so on: I'm in the process of moving out of the house I'm currently renting. Spending time in front of my computer will not be something I can do much in the next couple of days - I'll lift furniture and boxes - exciting…
AND it looks like my cellular just stopped working… great…
---
Feedback
This post has no feedback yet.
Do you have any thoughts you want to share? A question, maybe? Or is something in this post just plainly wrong? Then please send an e-mail to vegard at vegard dot net with your input. You can also use any of the other points of contact listed on the About page.
---
It looks like you're using Google's Chrome browser, which records everything you do on the internet. Personally identifiable and sensitive information about you is then sold to the highest bidder, making you a part of surveillance capitalism.

The Contra Chrome comic explains why this is bad, and why you should use another browser.