Love me, I'm famous
I still haven't heard anything from any newspapers regarding Mr. X. A disappointment really, doesn't he have any nerd friends who visit my site? Everyone should have a nerd friend who visits my site.
The number of sites that link to mine are quite few. If they do, it's usually because I've added a comment or a profile or something. Like waferbaby. On rare occasions, I find my site linked in someone else's blog entries. Like OwenSoft.net. Unfortunately, these links are usually only available for a short while and does not produce that much traffic. Every time Hell decides to freeze over, someone makes a permanent link to www.vegard.net on their site. Like Ine. She's been kind enough to link to my site. What's funny with this link is that I'm linked as Page-3-Vegard, probably referring to my habit of posting pictures of half-nude chicks. Just like various tabloids, like The Sun.
And since it's been a while, I have to be careful to maintain my reputation: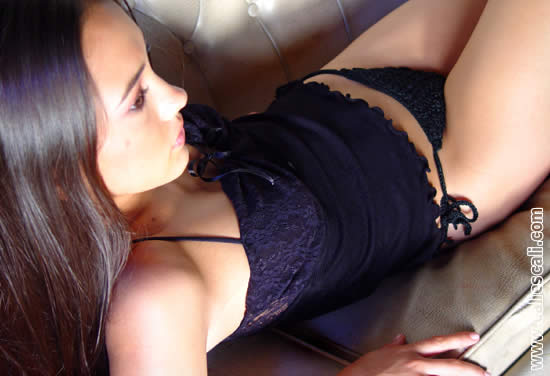 A couple of posts ago I told you about Camilla's successful dating. It seemed to me that it was turning into something rather serious and now I've been proved right. She's not technically dating anymore, her date is now her boyfriend. I really, really hope that everything works out for her, that she's got more luck with this guy than other guys she's been dating. Like me.
I'm totally out of things to write these days.
---
Feedback
Do you have any thoughts you want to share? A question, maybe? Or is something in this post just plainly wrong? Then please send an e-mail to
vegard at vegard dot net
with your input. You can also use any of the other points of contact listed on the
About
page.
If you're having problems writing things you are free to post more pictures like the one above.
;-)
I'm with Klas on this one ;)
The only "drawback" is that with more pictures (not that posting them is a bad thing!!) you would probably go from Page-3-Vegard to Playboy-Vegard… :)
I wouldn't mind being Playboy-Vegard. But in another context.
I'll change my link to Playboy-Vegard if you give me a link to a nude Johnny Depp first.

Deal?
ha funny. posting pictures of half-nude chicks might be the problem. But I have stopped linking to people I don't care anymore.

Still nice site, the menu is kind of off but and the comment link is hard to spot. Nice text though.
oh yes, happens all the time
Owen: Off? What OS/browser? Could you please send me a screen-shot?

Ine: I'll see what I can do.
hey your so hot, if u get this send me an email or something cuz u look fine!!!!
wheeeeeeeeeeew man your fine. sendme an e-mail plzz… P.S. nice panties
hey maybe fully nude chicks would bring more male viewers to your site instead of tempting 1/2 nude pictures. tempting-bad….nude-ok
whats the website in the picture i cant see it.
i wuld be like bend ya over and bam bam!
OMFG Damn gurl u are so fine i want to bend u over and make u mine omg gurl i swear any guy would be so luckey to have u !
Im 42/f/Michigan! E-mail me for some erotic chat!!!
il hit that all day non stop nigga.
you are so very beutiful.your skin complextion is so soft & texture so smooth. Pls maintain it as it is.
" YOU LOOK VERY GOOD "
oh my god!!! SHAWING…….TENTPOLE!! e-mail me!
she is sexey and hhhhhhhhhhhhhhhhhhhoooooooooooooooooooooooooottttttttttttttttttttttttttttt
oh shit, je veux trop me la faire
jokes straight up u look good keep them howlin must be funny ass hell some times
dam girl if you got more send em and ill send mine
your so sexy can i sea your houl body :)
i wanna have sex with that yo
sweet share the wealth girl
well…. i guess its something….whatever…. are you really so into yourself that you want people to tell you what they think of you…hmmm. what world do you live in… how about you try and mabey … awwww. who am i kiddin… you really are pretty… would you please respond and give meaning to my pathetic existance… if you dont i might try to kill myself… he he he
okay… just kiddin… i think i am gonna do it…
damn girl if u wer on paper u would be a fine print…..daaamn girl wit that wepon u could take me over. ur so hot and sexy how bout we do somthin a little naughty together hmmm? plz send me pics of u
email he pics plz!!!!!ur hoooooooooooooooooooot!!!
you are the hotest chick i have ever seen. could u remove your bra
wow your hot im going to have to jack off now byby
wow, babe ur toooooooooooo hhhhhoootttttttt. just keep on sending mor pics.
wow u got skills. just take off the bra
hii,
can we have sex on cam
you need to be nude in your pic. and i want to bang you all night
Can i have sex with the sexy girl
send me some pics of you so we xan sex all night
damn, asl? luk my age, we culd get together sometime, email me ;)… so damn fine…
By bill, can i give u anal?
i will bang u so hard u won't pee right for a week!
what is your phone number cause your looken so sexy
damn your fine e mail me pics of you
Am I the only one thinking these absurdly stupid comments are fakes, as in written by frequent posters posing as hormone-raging imbeciles?
No, these comments are made by your average twelve year old.
there is only one way to put it…
you are a beautiful, attractive, sexy, incredible young woman.
if you ever need anyone to talk to just e-mail me i will get back to u as soon as i can.
if you can plz send me some of your pics, i am in awe of your body. :) hope to talk to u soon. Later.
Do they actually think the model frequents this site and are attracted to emotionally retarded, pimpled pre-puberty-teens? My mind boggles..

(Psst! Just in case you do, Ms Cali, how does dinner for two sound?)
uh buddy…
she does visit this but she will not come to meet u normally.
hey plz send me some pics if u get the time
and im here for u if u ever need to talk
You got to be kidding me…
This post and especially its comments have now become a very interesting social study.
you are good look and nice
Pervers, frustated freaks
you are so hot girl next lose the bra please.
damn girl show more face nexst time
ur so hot !!! chat to me & send some of ur pics!
---
It looks like you're using Google's Chrome browser, which records everything you do on the internet. Personally identifiable and sensitive information about you is then sold to the highest bidder, making you a part of surveillance capitalism.

The Contra Chrome comic explains why this is bad, and why you should use another browser.