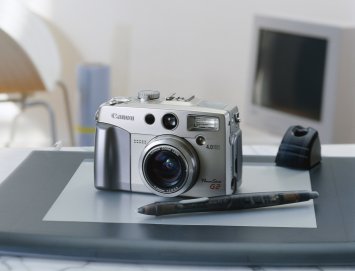 Yesterday I mentioned that I'd buy the Animatrix DVD when it was released if I had the money. Today I went downtown and made absolutely sure I don't have the money: I bought myself a brand new digital camera. Amateur and semi-pro photographer, bow before me and my Canon PowerShot G2. I figured it was about time to replace my old Konica with something better and a bit more professional, and the G2 ended up being my choice. So far it look like a very good choice, even thought I haven't been able to figure out even a little bit of all the features. Now I've got a great, and fucking expensive camera, all I need now is something to take pictures of. "Hey, pretty, want to join me for a short session of artistic photography?"
One of the main reasons I bought the new camera is that I've found myself sitting in my room staring at the wall being bored as hell a couple of times lately. And when I get bored, I start to think. When I do that, my thoughts start spinning a little too much and I start to think about certain people again and ask myself questions like "why?" So I decided I needed another hobby, besides basketball, drinking beer and playing around with my computer. Taken pictures is fun, so I went with that. Wish me the best of luck.
Matthew Good's 'Avalanche' has been spinning continuously in my CD-player since I got it and it's just getting better and better. The songs that weren't that good when I first listened to them are getting great, the songs that were great are still great. Just buy the album.
---
Feedback
This post has no feedback yet.
Do you have any thoughts you want to share? A question, maybe? Or is something in this post just plainly wrong? Then please send an e-mail to vegard at vegard dot net with your input. You can also use any of the other points of contact listed on the About page.
---