Shell Shocked at Birth
I've never been a very emotional guy. But pictures of children in the unimaginable mess of war has started to affect me. I suspect my emotional dial moved after Vilde was born. She is now two years old, and totally dependent on other people taking care of her and making sure she's safe. She's also blissfully unaware of the fact that many parts of the world is a living nightmare - the most pressing crisis in her life is that she can't have dessert. And that's exactly how a kids life should be.
Children in a warzone are in many ways robbed of their childhood. One of those kids is the three year old Syrian boy Omran Daqneesh. On August 17, 2016, he was injured in an alleged Russian Air Force attack on the apartment block he lived in with his family in the rebel-held district of Qaterji, Aleppo. Omran was pulled from the rubble, and placed in the back of an ambulance. Photographer Mahmoud Raslan happened to be at the scene, and shot a picture of the boy, a picture that quickly made it's way around the internet, both in social media and in the news.
Dazed and confused, perhaps in a state of shock, Omran sits quietly in the ambulance, staring into nothing. What looks like a pretty bad head injury in the picture thankfully turned out to be non-critical, and Omran was treated and discharged from the hospital after a few hours. His older brother, 10-year-old Ali, on the other hand, died from his injuries three days after the attack. All in all, 8 people, 5 of them children, perished in the air strike.
I wonder what kind of military significance the apartment building had.
With the Syrian civil war now in its fifth year, three-year-old Omran has never experienced anything else than war, and there's nothing that indicates that the boy will get to know what peace is like anytime soon.
Just to get an idea of what kind of massive clusterfuck the Syrian civil war really is, take a look at this list of armed groups involved in the conflict. President Bashar al-Assad and the Syrian Army is backed by Russia. The Syrian opposition is backed by the United States. The Syrian Democratic Forces is also supported by the Unites States. And then there's the Islamic State of Iraq and the Levant, and Al-Qaeda affiliates and allies, which is also in the mix. Having trouble keeping track of everyone, and who is fighting who? Maybe this illustration will help (it won't, though):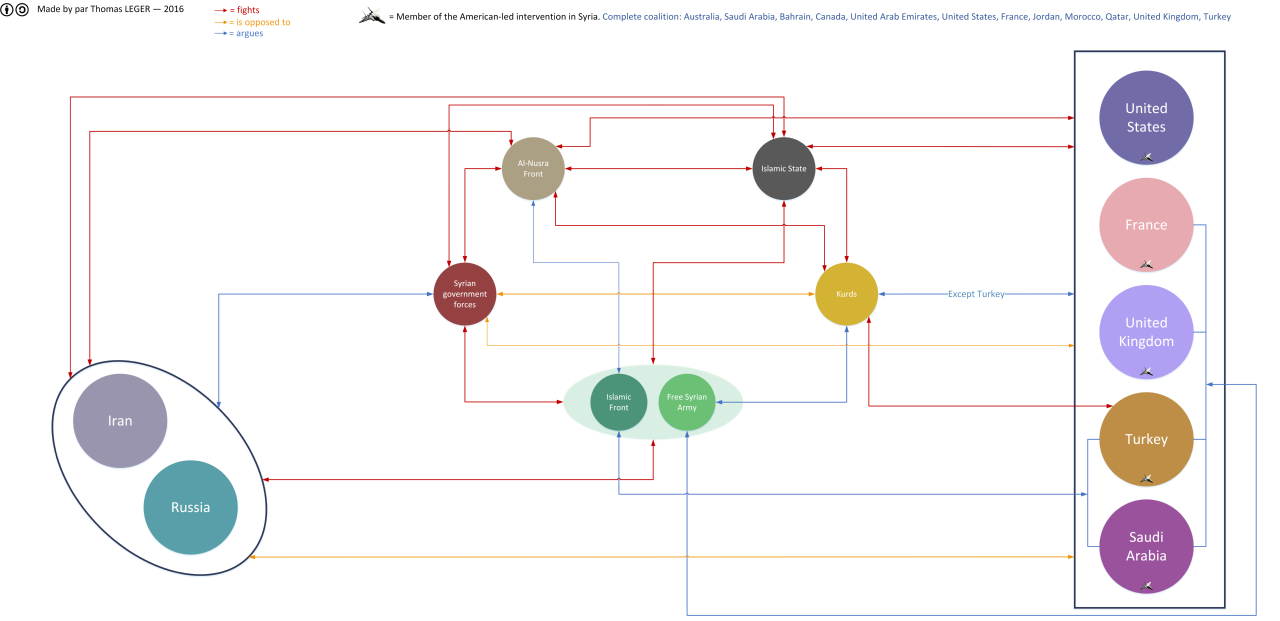 It's safe to assume that he Syrian civil war can go on for a very, very long time, which is a tragedy for everyone involved. But what can a guy do? Not that much, I guess. I can protest, and I can sign letters condemning the war. But that's pretty much pointless, isn't it? Of course I'm against the war. I think very few people think that a war in general is a good idea. There are other ways to solve conflicts than to maim and kill your fellow man. Signing an open letter against war is about as pointless as joining the Facebook group "we who are against pedophilia". Of course we're against pedophilia! We really shouldn't have to join a god damn Facebook group to make that statement.
What we can do is to provide financial support to the people who are dragging injured civilians from bombed buildings all over Syria: When the bombs rain down, the Syrian Civil Defence rushes in. Probably better known as the White Helmets, these unarmed volunteers - men and women - risk their lives to help anyone in need, regardless of their religion or politics.
You can actually make a difference in the Syrian civil war from where you're sitting right now, which is perhaps in your cozy sofa, somewhere in a country that hasn't seen war or armed conflict for many, many years: The White Helmets' important and lifesaving work is funded by donations. So man up, get your credit card, and make a donation.
When you're done, sit down, take a deep breath, and appreciate the fact that you can sleep safely in your bed tonight without the risk of being killed by a barrel bomb dropped on you by your own government.
---
Feedback
This post has no feedback yet.
Do you have any thoughts you want to share? A question, maybe? Or is something in this post just plainly wrong? Then please send an e-mail to vegard at vegard dot net with your input. You can also use any of the other points of contact listed on the About page.
---
It looks like you're using Google's Chrome browser, which records everything you do on the internet. Personally identifiable and sensitive information about you is then sold to the highest bidder, making you a part of surveillance capitalism.

The Contra Chrome comic explains why this is bad, and why you should use another browser.