Snapshots
I've had a lot of fun with my Canon EOS 400D digital SLR. If you take a look at the entries tagged with photography, you can see some of the many pictures I've taken with it. I even purchased Aperture to get the most out of every photo, and I have a couple of blow ups hanging in my living room.
But there is one major issue with the 400D and the kit I'm using now: It's just too large to take with me wherever I go. This summer I will be out and about a little and I've decided to see if it's possible to find a digital compact camera that will cover my needs without being too pricey.
I've decided to stick with Canon since I've never had any real problems with any of my Canon cameras, the image quality has always been great and Canon cameras are usually scoring quite high in the various reviews I've read.
I've narrowed my search down to four models. They all have their pros and cons based on my simple criteria: High image quality, small camera size and low weight, the camera should be somewhat sturdy so it doesn't break apart the first week and manual controls would be nice, but it's more important that the camera is capable of taking good photos when it's running in automatic mode. Also, video is nice, but not really necessary.
Canon PowerShot D10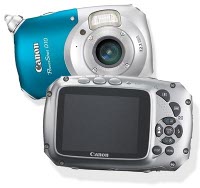 This is the camera of the pack that should be able to withstand the most punishment before it goes tits up. It's water proof down to 10 meters, will survive a fall from 1.22 meters (from 1.23 meters, it'll break into tiny, tiny pieces) and should operate in temperatures as low as -10 degrees. An excellent camera for anyone with both legs into extreme sports - in other words, overkill for me. The camera sports a 12.1 megapixels image sensor, 35-105mm equivalent lens with 3.0x optical zoom and optical image stabilization, 2.7-inch LCD and ISO sensitivity from 80 to 1600.
With those specifications, it should be able to do the job, but there are some downsides here. First of all, the shock, dust and water proof housing makes it quite large compared to the other three models. Also, everything water proof is a little bit more expensive than things that are not. Digital Photography Review describes the camera as "an Elph / Ixus wrapped up in a waterproof shell" and I can agree with that comparison as the technical specifications of the D10 are very similar to some of Canon's Ixus models.
Canon Digital Ixus 870 IS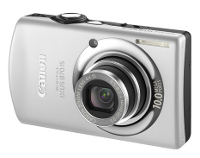 The Ixus 870 IS is the camera that packs the least punch when it comes to megapixels with "only" 10 megapixels. To be honest, I'm not sure if I'll notice any difference from 12.1 to 10 megapixels. None of the four cameras can shoot RAW images and they all feature the same type of image sensor (1/2,3″ CCD) and image processor (DIGIC 4 with iSAPS-technology). Other features on the 870 includes 28-112mm equivalent lens with 4x Optical zoom and 4x Digital zoom, 3.0 inch LCD, dual Image Stabilizer and ISO sensitivity up to 1600.
The camera scores well for high image quality in the test I've read and the the only real con has been high ISO noise. Personally, I like that it has a 28-112mm equivalent lens and 4x optical zoom. 2cm macro might also come in handy.
Canon Digital Ixus 100 IS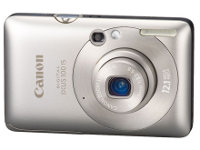 This is the smallest of the four, weighing in at 75 grams less than the D10. It's also, at least in my humble opinion, the camera with the best design, except maybe for the buttons on the back. It's one of Canon's first compacts to offer HD (720p) movie recording and the quality is rather good. According the reviews I read, the Auto mode works well, recognising not just the difference between people, landscapes and close-ups, but also the lighting conditions, adjusting the exposure and flash accordingly. Sounds excellent for point-and-click snapshots.
Other features are 33-100mm equivalent lens with 3x Optical zoom, ISO levels from 80 to 1600, 2.5 inch LCD and Image Stabilization.
Canon Digital Ixus 110 IS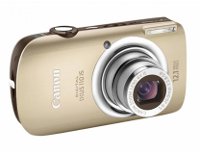 This is the Ixus 100 IS' bigger brother, or maybe sister - if you decide to get the pink version. In design, the 110 IS looks a bit like the 870 IS, at least from the front. The back of the camera, however, is very different and I'm really not sure if I like it. Sure, image quality is the number one criteria when buying a camera, but it should look nice, too. As far as comparisons go, the 110 IS comes with more or less the same technical specifications as the 870 IS, except for an extra 2.1 megapixels, a bit smaller LCD screen and the possibility to shoot somewhat larger JPEG photos.
The main difference between the two is that the 110 IS can record 1280x720 widescreen movies and the LCD screen also has a widescreen form factor.
Verdict
In conclusion, all four cameras are usable options for me, but I think I can safely remove two of them the list. The PowerShot D10 is too large and I don't really need a camera that I can dive with. It's also a bit pricey. That said, if I get the D10 I will be prepared for more or less any situation where it's possible I'd like to take a picture, but I'm not looking for a camera like that - I want a simple, no fuzz, point-and-click snapshot compact.
That also means that the Ixus 110 IS has got to go. It, too, is too large and the back looks like a mess. 1280x720 wide screen video recording would be nice, though. Still, it's not the in-the-pocket camera I'm looking for.
That leaves the Ixus 870 IS and the Ixus 100 IS. Tomorrow I'll try to stop by a photography store to have a look at them both. I suspect that the Ixus 100 IS is the one I'll eventually end up with, but it's hard to say until I've had the chance to play around with both.
The internet and Hallvard have been my main sources of information during my search. I've been reading reviews and recommendations on the these sites and they come highly recommended if you're ever looking to buy a digital camera:
---
Feedback
This post has no feedback yet.
Do you have any thoughts you want to share? A question, maybe? Or is something in this post just plainly wrong? Then please send an e-mail to vegard at vegard dot net with your input. You can also use any of the other points of contact listed on the About page.
---
It looks like you're using Google's Chrome browser, which records everything you do on the internet. Personally identifiable and sensitive information about you is then sold to the highest bidder, making you a part of surveillance capitalism.

The Contra Chrome comic explains why this is bad, and why you should use another browser.