On Tuesday I got a new computer on work. A nice Dell laptop, opening the boxes is like Christmas when I was six years old all over again. I love opening boxes containing stuff with power buttons. The good thing about getting a computer at work is that I no longer have to use my own for work-related stuff. And there are no bad things about it, really.
The last two nights I've some two strange dreams.
First I dreamt that I was in a train large train station, when suddenly the fire alarm went off. Of some very strange reason, I was in charge of checking the zones where it was burning. To do this, I had to start a machine - that looked very much like a slot machine. It ejected a bunch of small pyramid shaped things with room numbers on them, and I had to check all those rooms. I know I had a lot of trouble with the pyramids, because they were so damn small. Then I walked from room to room, mostly just to confirm that, yes, it's burning, without really doing anything about it. After a while, I enter a large hall, and in the middle of the hall, some woman is pouring water on herself. Or it turned out that it wasn't water, but petrol. "I'm not fat", she screamed, and set fire to herself.
I woke up. Probably a good thing. I have no idea who the woman was.
The other dream is more interesting, from a personal point of view. I dreamt about someone I know well, someone I like a lot - someone I've told that I like a lot, but without getting the response I wanted. Quite the opposite, really. Anyway, in this dream she tells me she's a lesbian, and that she's dating a girl she's been liking a lot for a long time. This was part of a larger dream, but I really can't remember anything else clearly. I have no idea why I dreamt this, it could be that my brain is desperate to come up with excuses to explain why she doesn't want to date me.
Or maybe I'm just a sick fuck. I'm guessing both.
I don't know why I've been dreaming so much lately, I usually don't. It could be because I've turned off the heater in my room, so it's a bit colder than usual. Dreaming is a lot of fun, in many ways, so I think I'll keep the heater off.
Klas reminded me that it's Friday today, and I guess that means he wanted me to post something like this: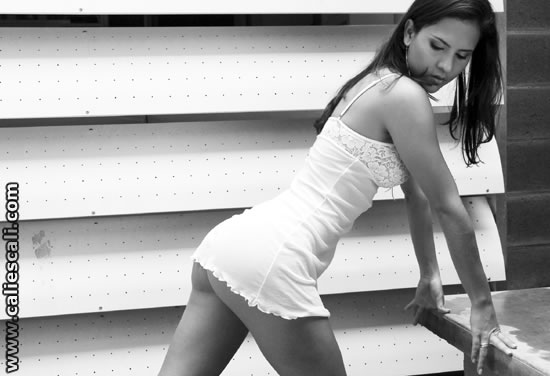 I know what you're thinking, there is no use in denying it…
---
Feedback
Do you have any thoughts you want to share? A question, maybe? Or is something in this post just plainly wrong? Then please send an e-mail to
vegard at vegard dot net
with your input. You can also use any of the other points of contact listed on the
About
page.
have I ever tried to denying what I think when I see pictures like that? :-)
let me know who this girl is…
Even if you knew her name, I doubt that you'd ever find her, let alone get the chance to do what's on your mind right now. This is Katherine Muñoz.
I meant the girl from your dream. the one that told you she was a lesbian. reading my earlier comment I understand the mixup. :-)
lovely but, wish i could have it, i wanna fuck u, then bum u, and all other interesting stuff. oh yeah i can feel it right now.
this girl is katherine she is very nice, met her in florida
You Know What, I happen to know this girl personally. Only some weeks after I met her she told how she was a model and that, and I just couldn't believe her for she was so sweet, and so down to earth that you would never think that such a friendly girl with such a generous personality is a model. Surprisingly, yes! She is a social communications student at Universidad Autonoma de Occidente in Cali (Colombia). Her cell phone number is (yeah right!)
oh, and by the way when she wears her very very low waist jeans you could see a lovely tatoo of a dolphin that covers a tiny little scar from an apendix removal operation for those who don't believe me. I'll let you know once things start to happen between us
Hi guys, I am Katherine. For your information, i'm not studying in that university, Till now, I still have my apendix in place. I'm just a normal person. And is nice to hear good things about me, Thank you very much! I'll be in touch.
I wish if I sleep with this girl cause I have a big big one for her
hi everyone! i met cathe 5 years ago aprox. acctually we dated for a year. She´s a very nice person with beautiful thoughts, easygoing, funny and a workaholic too!! So, katherine i hope you and your family is ok! a lot hugs and kisses for u. BYE. GEO.
Hola Geo, gracias por tu comentario! eres la única persona que realmente me conoce aquí. Te mando un abrazo y un beso. Kathe.
Tiene un cuerpazo, la carita, si es regular sin maquillaje. Lastima que se haya dedicado al prepago. Como decimos en su ciudad natal, ella es un diablote! Pobre novio
---