The Last Race
All right, it's the last race of the 2012 season. Two drivers can win the championship: Ferrari's Fernando Alonso and Red Bull's Sebastian Vettel. Vettel is currently leading to Alonso by 13 points, which gives us the following what ifs: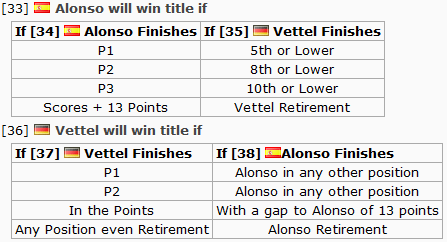 The table is shamelessly ripped from Reddit. I'm rooting for both the drivers, but I'm hoping that Vettel is able to bring it home. With the current starting grid, though, everything can happen: Vettel only managed to qualify on fourth, with Massa on the row behind him. If Vettel retires, Alonso has a real chance to win the championship and you never know what kind of plans Ferrari cocks up. Also, Webber is starting from P3, but will most likely let Vettel through as soon as possible and do what he can to keep Alonso behind him.
And as an extra joker in the deck: It might start to rain today. Right now people are putting on rain coats and opening umbrellas. All the drivers are likely on the grid with slicks, if there's a huge shower just before the start or on the first few laps, the entire grid will be thrown around. Exciting!