10 Artists You Had No Idea You Liked
Only a few days left of 2010 and the time has come for lists and summaries. Of course, I'll post my usual summary of the year on New Year's Eve - this is just a look back at the artists I discovered in 2010, plus a few old gems I think everyone with hearing should listen to. Deaf people: I'm sorry you might feel a little left out here. Since boxing day is a lazy day, I've just copy/pasted most of the text about the bands from Wikipedia. I even borrowed the photos from there.
With the risk of losing what little I had left of musical integrity, let's get started!
Alberta Cross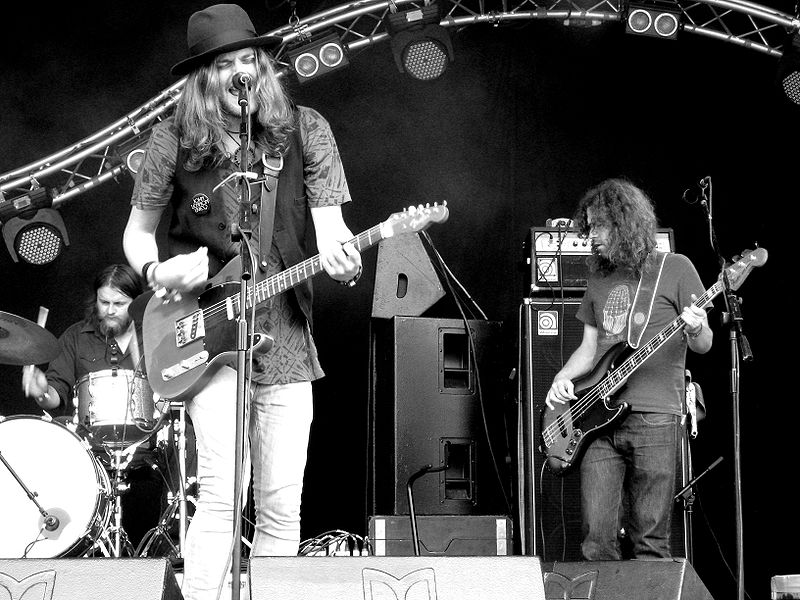 Alberta Cross are a New York-based band, formed by Petter Ericson Stakee (vocals, guitar) & Terry Wolfers (bass). Despite their different upbringings - Stakee travelled from an early age between Sweden and England with his singer-songwriter father, whilst Wolfers was brought up in London's East End - they formed what would later become Alberta Cross. After relocating to Brooklyn, New York, Stakee and Wolfers solidified the line-up with the addition of Austin Beede, Alec Higgins and Sam Kearney.
The band's sound has been compared to The Band, Neil Young, The Raconteurs and other blues-influenced rock bands.
Alberta Cross on Wikipedia and Spotify.
Biffy Clyro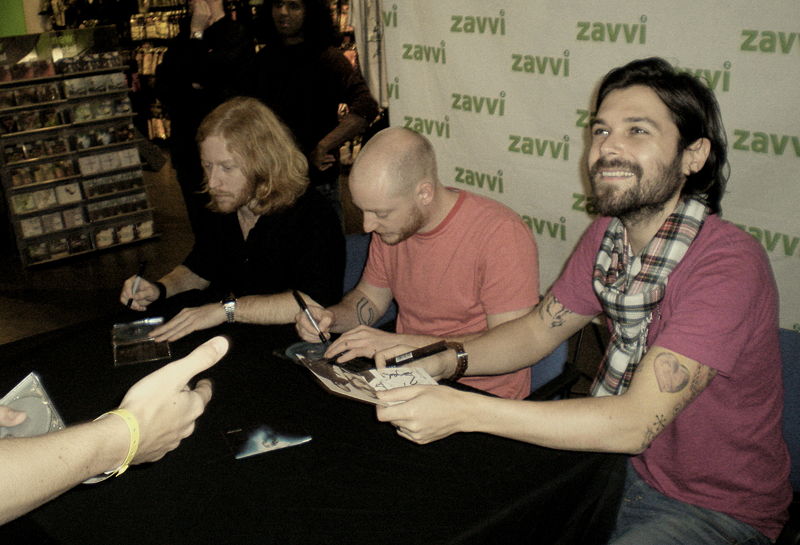 Biffy Clyro are a Scottish rock band from Kilmarnock,[2] comprising Simon Neil (guitar, lead vocals), James Johnston (bass, vocals) and Ben Johnston (drums, vocals). After their first three albums, the band expanded their following significantly with the release of their fourth, Puzzle in 2007. The album went gold in the UK, selling over 100,000 units. Biffy Clyro's popularity was built upon further in 2008 and 2009 with the release of the singles "Mountains" and "That Golden Rule", which both reached the top 10 of the UK singles chart. Their latest album, Only Revolutions, reached #3 in the UK chart and went gold within days of its release in 2009, later going platinum in 2010 and was nominated for the Mercury Music Prize.
Biffy Clyro on Wikipedia and Spotify.
Florence + the Machine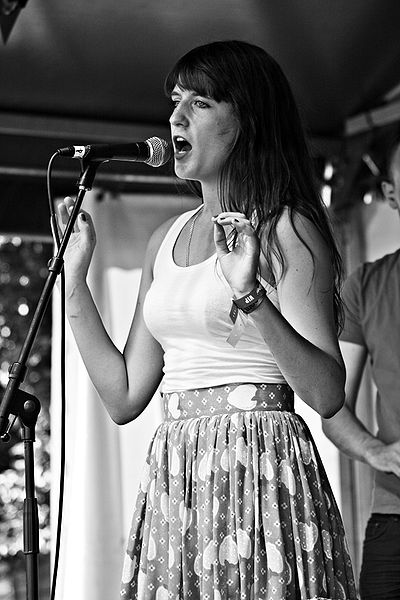 Florence and the Machine (stylised as Florence + the Machine) is the recording name of English indie rock artist Florence Welch and a collaboration of other artists who provide backing music for her voice. Florence and the Machine's sound has been described as a combination of various genres, including rock and soul. The band's music has received praise across the music media before they gained mainstream success, especially from the BBC who played a large part in Florence and the Machine's rise to prominence by promoting her as part of BBC Introducing.
The band's debut album, Lungs, was released on 6 July 2009, and held the number-two position for its first five weeks in the UK Albums Chart. On 17 January 2010, the album reached the top position, having remained on the chart for twenty-eight consecutive weeks up until that point. The album has been within the top forty in the United Kingdom for sixty-five consecutive weeks, making it one of the best-selling albums of 2009 and 2010 so far. At the 2010 BRIT Awards, Lungs won the Mastercard British Album award. Florence and the Machine performed at the 2010 MTV Video Music Awards and the 2010 Nobel Peace Prize Concert. It has recently been announced that the band have been nominated for Best New Artist at the 53rd Grammy Awards.
Florence + the Machine on Wikipedia and Spotify.
John Mayer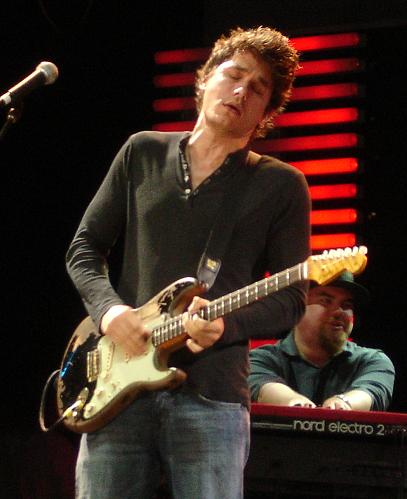 John Clayton Mayer (pronounced /ˈmeɪ.ər/ MAY-ər; born October 16, 1977) is an American musician, singer-songwriter, recording artist, and music producer. Raised in Fairfield, Connecticut, where he attended Fairfield Warde High School. He then attended Berklee College of Music in Boston before moving to Atlanta, Georgia in 1997, where he refined his skills and gained a following. His first two studio albums, Room for Squares and Heavier Things, did well commercially, achieving multi-platinum status. In 2003, he won a Best Male Pop Vocal Performance Grammy Award for "Your Body Is a Wonderland".
Mayer began his career performing mainly acoustic rock, but gradually began a transition towards the blues genre in 2005 by collaborating with renowned blues artists such as B. B. King, Buddy Guy, and Eric Clapton, and by forming the John Mayer Trio. The blues influence can be heard on his album Continuum, released in September 2006. At the 49th Annual Grammy Awards in 2007 Mayer won Best Pop Vocal Album for Continuum and Best Male Pop Vocal Performance for "Waiting on the World to Change". He released his fourth studio album, Battle Studies, in November 2009.
Mayer's career pursuits have extended to stand-up comedy, design, and writing; he has written pieces for magazines, most notably for Esquire. He is also involved in philanthropic activities through his "Back to You" fund. Several high-profile romantic relationships and his involvement with the media caused him to become a tabloid staple, beginning in 2006.
John Mayer on Wikipedia and Spotify.
Ladyhawke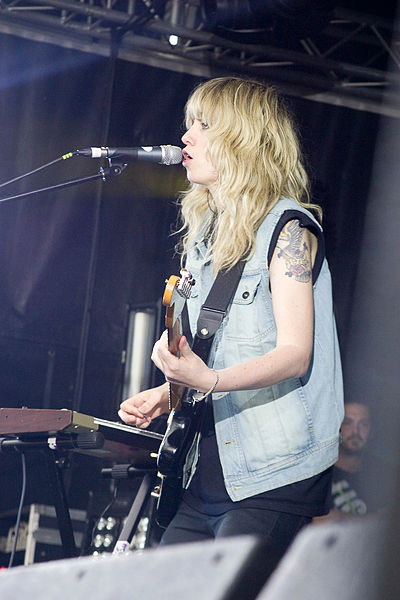 Phillipa "Pip" Brown (born in July 1979) better known by her stage name Ladyhawke, is a New Zealand singer-songwriter and multi-instrumentalist. She was formerly a part of the Wellington-based band Two Lane Blacktop, named for the 1971 road film of the same name. Before assuming the name Ladyhawke, she formed the band Teenager with Nick Littlemore of Pnau and Empire of the Sun. Ladyhawke named herself after the 1985 Richard Donner film Ladyhawke. Ladyhawke is best known for her hit singles "Paris Is Burning" and "My Delirium". Her self-titled debut album was released on Modular Recordings in September 2008. At the ARIA Music Awards of 2009, Ladyhawke won for Best Breakthrough single and album.
The Observer grouped Ladyhawke in with other singers gaining notice with their distinct fashion, 1980s references, and androgyny, including Lady Gaga, Little Boots, Lissy Trullie and Elly Jackson from the synthpop duo La Roux.
Ladyhawke on Wikipedia and Spotify.
Lars Winnerbäck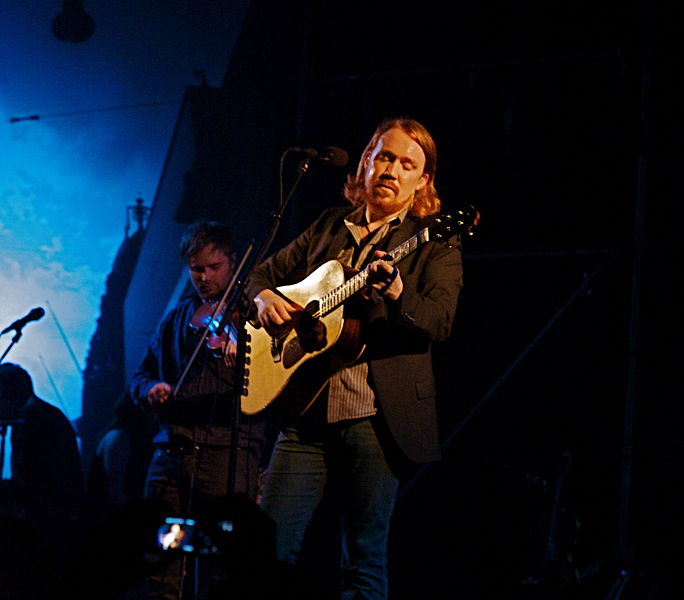 Lars Mattias Winnerbäck (born 19 October 1975), is a Swedish singer and songwriter. He was born in Stockholm, but spent his childhood in Linköping, where he attended Katedralskolan. He moved back to Stockholm in 1996, the same year he released his first album, Dans med svåra steg. He is now one of Sweden's most popular artists.
The influence of songwriters like Carl Michael Bellman, Evert Taube, Bob Dylan, Ulf Lundell and Cornelis Vreeswijk shines through in Winnerbäck's exclusively Swedish lyrics, which deal with shallowness, prejudice in society and hypocrisy in religion, as well as romance, relationships and anxiety. Several songs depict the difference between living in medium-size Linköping and metropolitan Stockholm.
Lars Winnerbäck on Wikipedia and Spotify.
Matthew Good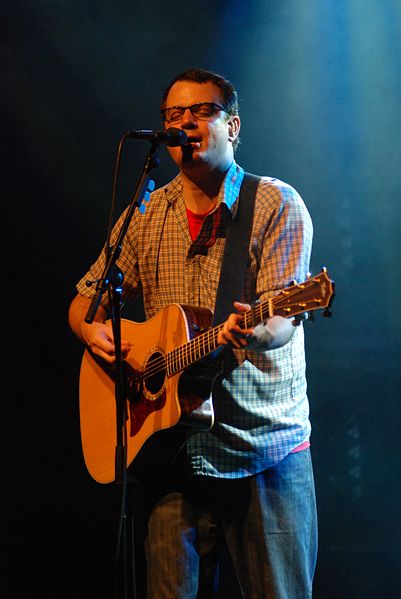 Matthew Frederick Robert Good (born June 29, 1971, Burnaby, British Columbia) is a Canadian rock musician. He was the lead singer for the Matthew Good Band, one of Canada's most successful alternative rock bands in the 1990s, before dissolving the band in 2002. Other band members included drummer Ian Browne, guitarist/keyboardist Dave Genn, and original bassist Geoff Lloyd, later replaced by Rich Priske. In the years since the Matthew Good Band's disbanding, Good has pursued a solo career and established himself as a political activist and blogger.
Matthew Good on Wikipedia and Spotify.
Mumford & Sons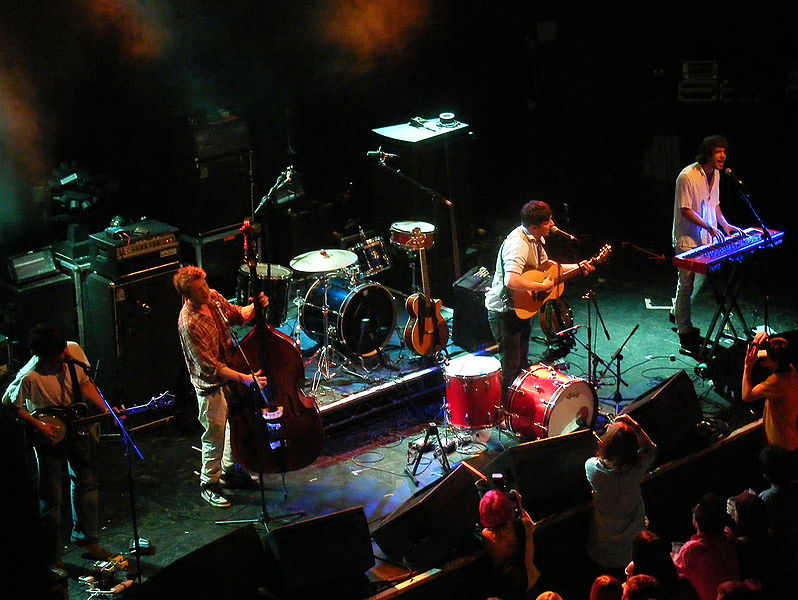 Mumford & Sons are an English folk rock band. The band is made up of Marcus Mumford (vocals, guitar, drums, mandolin), Ben Lovett (vocals, keyboards, accordion), "Country" Winston Marshall (vocals, banjo, dobro), and Ted Dwane (vocals, string bass). Although the band members have claims on certain instruments, the members switch instruments during live shows according to convenience, for they each play a variety of instruments. The band formed in late 2007, rising out of London's folk scene with other artists such as Laura Marling, Johnny Flynn and Noah and the Whale.
The band has often supported Laura Marling at concerts, while their association with Noah and the Whale can be traced back to St Paul's School, Barnes and King's College School, Wimbledon. Mumford and Lovett attended King's College School alongside Noah and the Whale bassist Matt Owens, while Marshall attended St Paul's School along with Charlie Fink, lead singer of Noah and the Whale.
The band's debut album, Sigh No More, was released in the United Kingdom in October 2009, and February 2010 in the United States. On December 1, 2010 the band received two Grammy Award nominations, one for Best New Artist and the other for Best Rock Song (Little Lion Man).
Mumford & Sons on Wikipedia and Spotify.
Nada Surf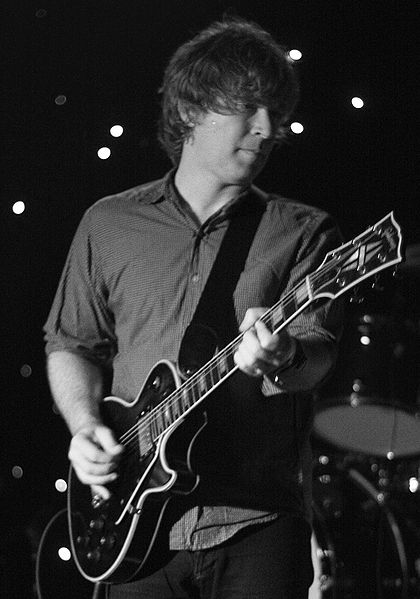 Nada Surf is an American alternative rock band. Formed in 1992, the New York band consists of Matthew Caws (guitar, vocals), Ira Elliot (drums, backup vocals) and Daniel Lorca (bass, backup vocals).
Nada Surf was formed in the early nineties by Matthew Caws and Daniel Lorca. They met in the Lycée français de New York (USA) and spent some of their childhood in France and Belgium. They played in many bands, including The Cost of Living and Because Because Because. Their first drummer was named Dan, later alluded to in the song "The Plan" (High/Low). Dan was then replaced by Aaron Conte, with whom the band recorded its first 7″, The Plan/Telescope (1994/Stickboy), as well as the demo tape Tafkans, the raw version of High/Low. Those raw versions were later released on their second 7″, Deeper Well/Pressure Free (1995/Deep Elm Records), on the Karmic EP and on North 6th Street.
Nada Surf on Wikipedia and Spotify.
Rise Against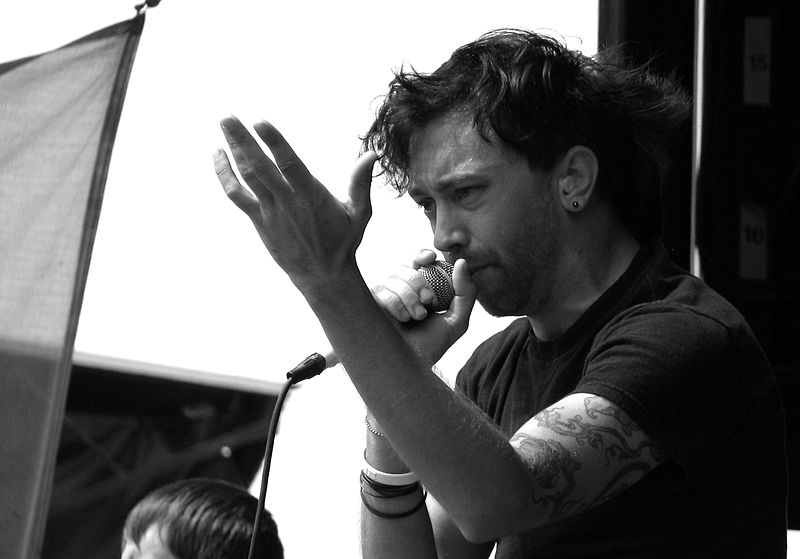 Rise Against is an American melodic hardcore band from Chicago, Illinois, formed in 1999. The band currently consists of Tim McIlrath (lead vocals, rhythm guitar), Zach Blair (lead guitar, backing vocals), Joe Principe (bass guitar, backing vocals) and Brandon Barnes (drums, percussion).
Rise Against spent its first five years signed to the independent record label Fat Wreck Chords, on which it released two studio albums, The Unraveling (2001) and Revolutions per Minute (2003). Both the albums met with considerable underground success and in 2003, the band signed onto the major label, Geffen.
The band's major label debut Siren Song of the Counter Culture brought the band mainstream success, producing several successful singles. The band's fourth studio album, The Sufferer & the Witness debuted at number ten on the Billboard 200 chart and received positive reviews from critics. The band's fifth studio album Appeal to Reason was released on October 7, 2008 and debuted at number three on the Billboard 200 chart. All three albums released via Geffen were certified platinum in Canada and gold in the United States. The band actively promotes animal rights and are all straight edge (excluding Barnes), PETA supporters and vegetarians. Rise Against is currently recording a sixth studio album at The Blasting Room in Fort Collins, due for release in 2011.
---
Feedback
This post has no feedback yet.
Do you have any thoughts you want to share? A question, maybe? Or is something in this post just plainly wrong? Then please send an e-mail to vegard at vegard dot net with your input. You can also use any of the other points of contact listed on the About page.
---
It looks like you're using Google's Chrome browser, which records everything you do on the internet. Personally identifiable and sensitive information about you is then sold to the highest bidder, making you a part of surveillance capitalism.

The Contra Chrome comic explains why this is bad, and why you should use another browser.